Refugees are the theme of the Shakespearean International Yearbook Vol. 19, co-edited by Tom Bishop, Stephen O'Neill, Ton Hoenselaars, and MIT Global Shakespeares co-founder Alexa Alice Joubin (Routledge, 2022). Shakespeare has often offered orientation and even emotional refuge both to people in crisis and to those contemplating it.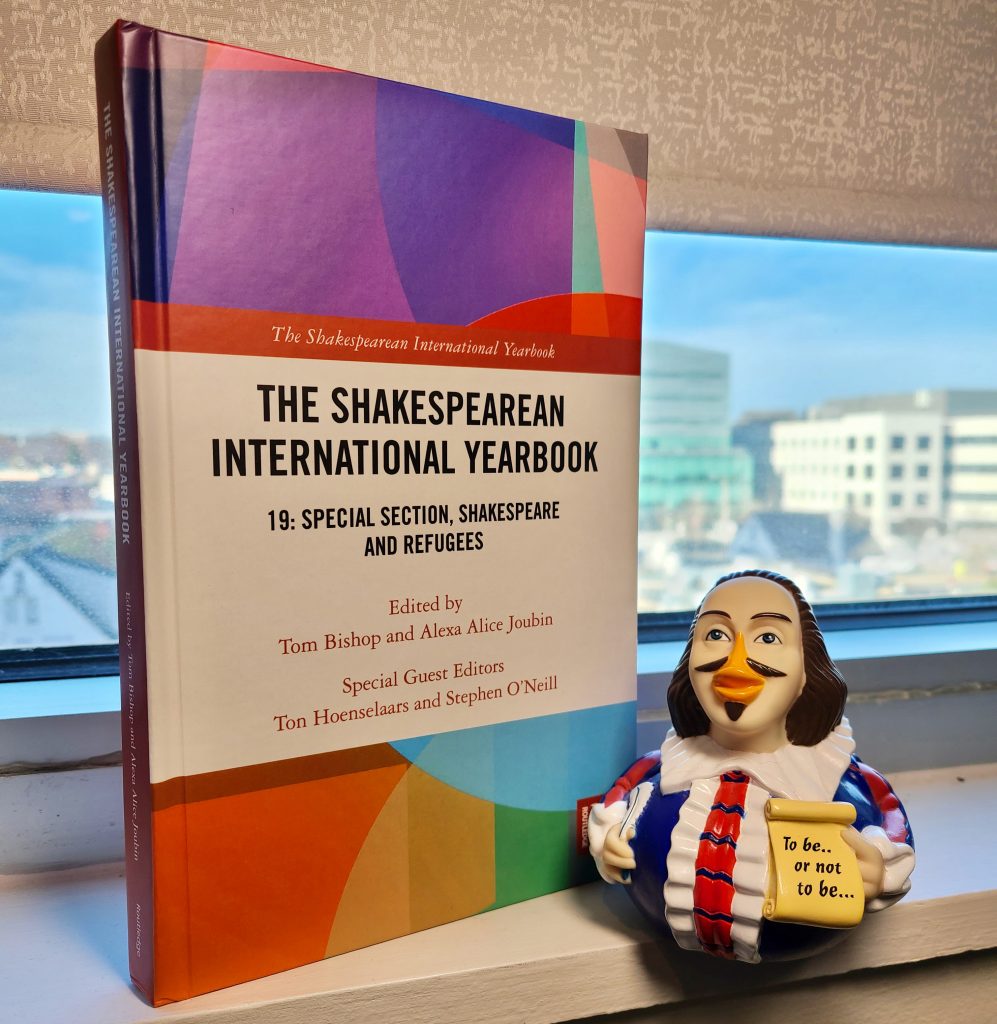 Shakespeare has also been performed by and for refugees. In 2015, the London Globe toured its Hamlet to Zaatari Camp in Jordan, and German director Thomas Ostermeier led workshops in the Jenin refugee camp in Ramallah, Palestine. Europe's recent refugee crisis, peaking in 2015, saw over one million asylum seekers, driven by wars and environmental disasters, arrive in Europe from Syria, Afghanistan, Iraq, and elsewhere. The humanitarian crisis was the central concern of a nine-university Erasmus project, Facing Europe in Crisis: Shakespeare's World and Present Challenges (2016–2019). It seems fair to predict that this will not be the last such movement.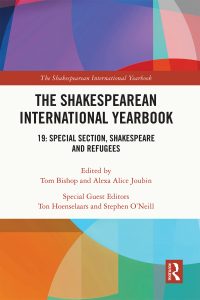 King Lear became a political allegory of division in the post-Brexit era, and Anglophone pop culture gravitated towards Shakespeare through memes and quotes during the global pandemic of COVID-19. Shakespeare's plays have also been used to depict large-scale social dislocation. Kozintsev's 1971 film of King Lear opens with an anxious multitude gathering to learn the fate of the kingdom, and in Richard Eyre's 2018 film, Anthony Hopkins' exiled Lear finds himself an unaccommodated man in a refugee camp under pouring rain, wandering among makeshift tents.
Over time, the Western canon has been given various forms of moral authority, including the authority to address crisis. Shakespeare in particular has been deployed for socially and politically reparative purposes. The efficacy of the purported reparation differs among these performances.
Parallel, political uses of Shakespeare for socially progressive causes have also emerged in Latin America, which is why the present volume features a second thematic section, edited by Tom Bishop and Alexa Alice Joubin. The five articles in our special section take the pulse of the vibrant artistic and scholarly creativity in the field since that time by examining the presence of Shakespeare variously on page and stage in Brazil, Chile, Cuba, Colombia, and the Caribbean.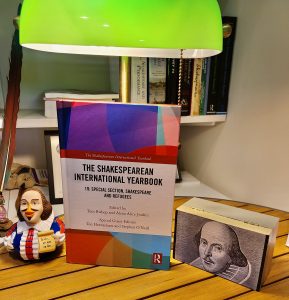 As empowering and positive as these productions and academic initiatives can be, our present volume considers the moment dialectically, including the less comfortable question of whether some of these "reparative" projects for refugees might unconsciously exploit the refugee crisis as a trendy topic to serve mere palliation or even academic advancement rather than communities in need.
The two clusters of essays on refuge and on Latin America speak to each other in their nuanced reframing of concepts such as the local and the global as well as antipathy and political uses of Shakespeare. An ethical concern around "outsourcing" social work to Shakespeare also informs both sections, raising questions about the use of canonical texts as much to reassure the privileged as to advance the interest of the oppressed.
______________________
Excerpted from Alexa Alice Joubin and Tom Bishop's Preface to The Shakespearean International Yearbook Vol. 19 (Routledge, 2022). Full text available here.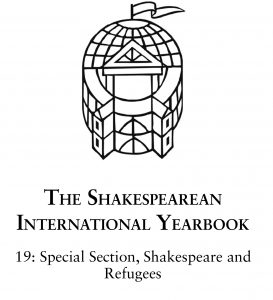 Table of Contents
Preface
Tom Bishop and Alexa Alice Joubin
Part One: Shakespeare and Refugees
Special Guest Editors: Ton Hoenselaars, University of Utrecht, and Stephen O'Neill, Maynooth University
I: Dangerous Conversations / Communities
Refugee Theatre: Hospitality and Dangerous Conversations in The Jungle and Hamlet
David Ruiter, University of California, San Diego
In the Eye of the Storm: Refugee-Responsive Shakespeare on the Italian Stage
Sara Soncini, University of Pisa
Hamlet in the "Jungle": Representing Shakespeare in the Calais Refugee Camp"
Amy L. Smith, Kalamazoo College
II: Stories
An Interview with Ayham Majid Agha
Margaret Litvin, Boston University
Foreigners and Strangers: Theatre, History, and a City of Refuge
Tony Howard, University of Warwick
Dramatic Escapes: Elisabeth Bergner, the Vanishing Refugee, and As You Like It
Robert Sawyer, East Tennessee State University
III: Ethics
"This Is the Strangers' Case": Shakespeare, Sir Thomas More, and Refugees
Sabine Schülting, Freie Universität, Berlin
Humanist Shakespeare? Xenophobia and Compassion in Sir Thomas More
Anne Sophie Refskou, University of Surrey
Part II: Latin American Shakespeares
"This Island's Mine": Ecocritical Caribbean Tempests
Jennifer Flaherty, Georgia College
Recovering Linguistic Multiplicity in Nicanor Parra's "Antipoetic" Translation of King Lear
Belén Bistué, Universidad Nacional de Cuyo
"Enter Time, the Chorus": The Winter's Tale by Companhia Atores de Laura, Brazil
Aline de Mello Sanfelici, Universidade Tecnológica Federal do Paraná, and José Roberto O'Shea, Universidade Federal de Santa Catarina
Possessed by Shakespeare: Hamlet and Tomás González's El bello arte de ser
Donna Woodford-Gormley, New Mexico Highlands University
Anti-Shakespeare Rhetoric and Colombia's "Theatre for Peace"
Kevin A. Quarmby, The College of St. Scholastica
"Sir, You're Robb'd": Iago and the Ethics and Aesthetics of Adapting Shakespeare in Brazil
Cristiane Busato Smith, Arizona State University, and Liana de Camargo Leão, Universidade Federal do Paraná
Part III: Shakespeare in German Translation
Translating Orchids: Rhizomes in German Shakespeare T
Christian Smith, Independent Scholar
Use code FLY21 at checkout for 20% discount: