Hamlet, Macbeth, and King Lear have inspired incredible work in the Sinophone theatres of Hong Kong, Taiwan, and China for over two centuries as political theatre, comedic parody, Chinese opera, and avant-garde theatre. Gender roles in the plays take on new meanings when they are embodied by actors whose new accents expand the characters' racial identities. A new, one-of-a-kind anthology, Sinophone Adaptations of Shakespeare, edited by Alexa Alice Joubin, honors this fact of diversity. English-subtitled videos of most of the plays in this anthology are available on MIT Global Shakespeares.
Between 1987, when Chairman Deng Xiaoping reaffirmed "socialist market economy" as the guiding principle of China's development and when Taiwan's martial law was lifted by President Chiang Ching-kuo, and 2007, when the first competitive Chief Executive election changed Hong Kong's political culture (Donald Tsang was elected), these three tragedies were staged in multiple traditional and modern performance genres. They were informed by the anxieties and cultural dynamics in China, Hong Kong, and Taiwan during this period. The year of 1987 was the beginning of the internationalization of Sinophone Shakespeare. The multinational technology company Huawei was founded in 1987, a landmark event in terms of China's rise internationally.
Alexa Alice Joubin's regional method of cultural studies features a built-in comparative perspective that amplifies what Rita Felski and Susan Stanford Friedman calls "a relational mode of thinking." This method transcends siloed, national perspectives on the development of performance cultures.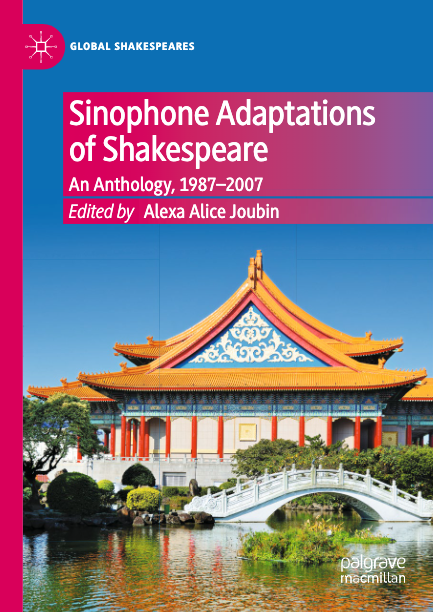 A regional methodology attends to intra-regional idiosyncrasies and connections by breaking down perceived, clear cultural boundaries between nation-states. In this model of regional studies, there are no singular, unitary centers and peripheries in the cultural exchange, because the diffuse nature of disseminating ideas on varied but connected cultural terrains enables us to have a more comprehensive vision of artists' claimed affinity with, indifference to, and resistance of Shakespeare and the idea of Chineseness.
In fact, while the "Sinophone" may be a discrete aesthetic or linguistic unit, it has no official geographical borders. The Sinophone encompasses artistic creation in Mandarin and a wide range of Sinetic dialects and practices. Using the region as a unit of knowledge helps us transcend "local" exceptionalism.
————————————-
The book showcases the directors' methodic transformations of the three tragedies into various performance genres. Organized thematically to address the cultural exigencies between 1987 and 2007, this collection of translated plays showcases some gems of Sinophone cultures that stand at the intersection of East Asian and Anglophone dramas. Each section of this anthology focuses on a pair of striking adaptations of one of the tragedies.
This book shows that positivist and antithetical strands co-exist in the Sinophone reception of Shakespeare. Relational, cultural meanings emerge through negation of and negotiation with Shakespeare.
————————————-
Here is a fascinating example of the plays that have been translated into English. King Lear has held a special place in Asia. In the Sinophone world, the tragedy has been adapted as a story of social reparation and of aging and dying with dignity.
Taiwanese Beijing opera (jingju) actor Wu Hsing-kuo staged a series of iconic scenes from King Lear to tell an autobiographical story in his solo production, Lear Is Here. Even though the story was performed in an operatic form, filial piety is not the central focus, as is the case in other Beijing opera adaptations.
Among the plays collected in this volume, Lear Is Here is unique in having originated outside of the Sinophone sphere. Ariane Mnouchkine invited Wu to lead a workshop for Théâtre du Soleil in Paris to address the limitations of European avant-garde acting methods. He created the solo adaptation of Lear as a means to introduce jingju techniques to non-specialists and to innovate jingju by fusing the operatic form with a Western high tragedy. Like Shamlet, Shakespeare's work is merely a pretext for artistic innovation here. Having been invited to the Edinburgh Festival, New York's Lincoln Center, and other prestigious venues, Lear Is Here is still touring internationally today.
Wu played ten characters: Li Er in the first act, the Fool, a Dog, Goneril, Regan, Cordelia, Earl of Gloucester, Edmund, and Edgar in the second act, and himself (Wu Hsing-kuo the actor) in the third and final act. In taking on male and female roles of all ages and jingju role types outside of his specialization, Wu entered an experimental territory and accomplished what few jingju actors have attempted.
Wu also mapped his life story onto that of Lear's. He used the idea of king's two, spiritual and carnal, bodies and Lear's monarchial and paternal identities to address his own divided identities as a Taiwanese jingju actor. Beijing opera is seen on the island as a decidedly, and problematically, Chinese art form. Taiwan has been constantly under threat of invasion from the People's Republic of China, and Sinophobic sentiments have been growing stronger since the
————————————-
Here is another example of Sinophone dramatic creativity. In Shamlet, whose title playfully evokes the Mandarin transliterations of Shakespeare's name and "Hamlet," for example, the Danish prince froze when the ghost of his father was stranded onstage after the scene on the castle ramparts (act 1, scenes 4 and 5) due to a scripted mechanical failure of the wires. After the father-son conversation about the most "foul and … unnatural" murder of Old Hamlet, the Ghost—had everything gone according to plan—would exit by ascending by wire. A witty metatheatrical comedy about a struggling theatre company, Shamlet depicts a group of bumbling Taiwanese actors' endearing efforts to put on Hamlet to rescue their company from financial ruin.
Half way through the story, an actor-character made the astonishing discovery that their troupe got the play's title wrong all along: it should have been Hamlet rather than Shamlet.
The actor-characters' fate in the story mirrors the indeterminate state of being of the characters in Hamlet. In search of identities onstage and in their personal life, they explore such questions as "should the show go on?" and "to be or not to be" an actor? The show peels back the façade of stagecraft to reveal the contingency of theatre making. Its metatheatrical structure also defamiliarizes the tropes of a brooding prince and his revenge mission in Hamlet. This 1992 masterpiece by Taiwanese playwright Lee Kuo-hsiu features dramaturgical parallels to Ernst Lubitsch's To Be or Not to Be (Romaine Film Corp, 1942) and Kenneth Branagh's A Midwinter's Tale (Castle Rock Entertainment, 1995), both of which revolve around fictional theatre companies' comical and, sometimes pitiable, efforts to stage Hamlet. With continuous revivals staged even after Lee's death in 2013, Shamlet remains one of the most popular plays in the Sinophone world today.
————————————-
Excerpted from Alexa Alice Joubin, ed., Sinophone Adaptations of Shakespeare: An Anthology, 1987-2007, New York: Palgrave, 2022; ISBN 978-3-030-92993-0; DOI 10.1007/978-3-030-92993-0
Open-access full-text Introduction in PDF form
————————————-
Table of Contents
Sinophone Shakespeares: A Critical Introduction, Alexa Alice Joubin
Part 1. Existentialist Questions in Post-Socialist China and Post-Martial-Law Taiwan
Chapter 1. Hamlet as Political Theatre in Beijing, 1990, Steven L. Riep and Ronald Kimmons
Chapter 2. Hamlet as Parody in Taipei, 1992 / 2008, Christopher Rea and Alexa Alice Joubin
Part 2. Bewitched by Kunqu Opera and Avant-Garde Theatre
Chapter 3. An Operatic Macbeth in Shanghai, 1987 / 2008, Siyuan Liu and Alexa Alice Joubin
Chapter 4. A Feminist Macbeth in Tainan, 2007, Yilin Chen
Part 3. Self-Identities in Traditional and Experimental Jingju Opera
Chapter 5. A Confucian King Lear in Shanghai, 1995, Dongshin Chang and Alexa Alice Joubin
Chapter 6. A Buddhist King Lear in Taipei, 2001, Alexa Alice Joubin
Coda
Chapter 7. Theatrical Bricolage of Hamlet, King Lear, Macbeth, and Othello in Beijing, 1986, Lia Wen-ching Liang