Kıbrıslı William Shakespeare (Cypriot William Shakespeare)
In this hilarious retelling of Shakespeare's life and writing process, the Turkish Cypriot comedians Mehmet Ekin Vaiz and Gülşen Erçin imagine William Shakespeare as a matrilocal who moves to Cyprus. Vaiz's Shakespeare has an unhappy life as a dairyman and catalyses his frustration with his dominant wife and his daily chores of cleaning cow dungs by revising his plays that apparently had first happy endings into tragic stories. Further motivated by his excessive drinking of the local alcoholic drink zivania, this parodic retelling of the Cypriot William Shakespeare ends with a promotion of Othello, the local zivania trademark.
Cast
Mehmet Ekin Vaiz (William Shakespeare)
Gülşen Erçin (Anne Hathaway)
For more information, visit Neydi Olacağı.
Further Reading
Öğütcü, Murat. "Contemporary Turkish Shakespeares: New Breath to Old Lives." Early Modern Liveness: Mediating Presence in Text, Stage and Screen. Eds. Danielle Rosvally and Donovan Sherman. London: Arden, 2023. 145-169.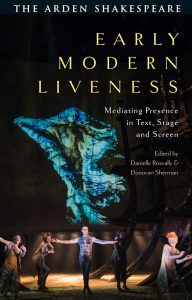 ---
Production notes provided by Associate Professor Dr. Murat Öğütcü, Munzur University, Turkey.
Kıbrıslı William Shakespeare (Cypriot William Shakespeare)
Title:
Kıbrıslı William Shakespeare (Cypriot William Shakespeare)