The Tempest
The Tempest – a comedy written by William Shakespeare (1611).
Play was performed by The Doha Players at Qatar National Convention Centre for four nights between 7th and 10th November 2015.
Qatar University outreach project by Dr James Mirrione and Dr Kim C Sturgess.
An Introduction by Dr. Kim C. Sturgess, August 2016
Many contemporary academics and theatre directors transport Prospero and his creator Shakespeare to the Atlantic Ocean and the so called "new world". This appropriation of the characters and setting enables them to make the dual claim for The Tempest to be both of America and a post-colonial drama.
The production staged at the Qatar National Convention Centre in 2015 returned the play to its seventeenth-century origins. Our intention was to present a dramatic performance in opposition to the restrictive idea that has allowed the now almost viral assertion that The Tempest, a play written in 1611, might best be understood as a post-colonial drama. For Qatar we chose to closely reflect the text and historical facts and return the play to a pre-twentieth century, non-politicised reading of Shakespeare, positioning the drama on an island lying between Europe and North Africa. We argued that Shakespeare wrote for a classical muse that was European in origin and that The Tempest, rather than a last solo oddity, fits happily within the playwright's thirty-eight play catalogue.
A simple starting point for any audience experiencing the play for the first time might be to ask the geographical setting for The Tempest. The internal evidence within the play text makes it very clear. The island where Prospero and Miranda were marooned is approximately ten leagues – about 30 nautical miles – from the north African city of Tunis, on the sea route from that city to Naples on the Italian peninsular. This is a Mediterranean Tempest certainly not an Atlantic one. To confirm this geographical location, throughout the play Shakespeare chose to include references to Milan seventeen times; Naples nineteen times; Tunis nine times and Carthage four times. This is not just a physical location for the play as all the narrative signs and cultural symbols are also of England or the European Mediterranean.
It is important for a director to recognise the island is not the subject or theme of the drama but merely the setting. The Tempest referred to in the play title is the power struggle between the royal brothers, between conflicting desires for destructive revenge and healing reconciliation.
With all the above in mind we set about creating a production of this 400 year old play that would appeal to an audience here in Qatar. It would be 'pure' Shakespeare and not an adaptation. With the location agreed as just north of Tunis, as stated in Shakespeare's text, we chose to use Berber/Algerian style robes and Arabian swords for our cast. The stage scenery included impressions of Sidra trees and an Arabian tent.
Casting is always key to a successful production. My co-director and I chose to complicate the task. Shakespeare's play includes just one part for a female. As professor of Shakespeare within a female only college – my intention was to empower our students and therefore we directors chose to cast five females, four of whom would cross-dress, one playing the key male character Prospero. We cast two females as Ariel – both on stage at the same time. For our cast we included two fifteen and two seventeen year old students. We were confident due to these very creative decisions Qatar University students attending the play would see people like themselves and realise that they too might one day act on stage. All our cast were amateur actors, either school students or expatriates working in Qatar, and members of The Doha Players.
The play text needed close attention. While no credible academic changes Shakespeare it is permissible to delete parts of the text. The play when performed on stage in the UK or USA usually runs for three hours. To assist our audience here in Qatar we chose to edit the text – removing one whole scene not vital for understanding the play. This enabled us to reduce the running time to 135 minutes.
The next hurdle to cross was the censor. In Qatar all stage plays and published material need formal authorisation prior to being presented to the public. Just as Shakespeare did in England we needed the censor's formal approval prior to performance. This approval was achieved with only one or two very minor deletions to the text.
Casting took place in May 2015 and then there was the annual Arabian two month summer break. When these holidays were over rehearsals began in September and took place three times a week, both on Friday and Saturdays and one evening, from September 4th until the first curtain on November 7th.
The Qatar National Convention Centre is an immense modern building with three theatre spaces. We chose the 400 seat auditorium. Over the four public performances we achieved an audience of over 1260 persons including approximately 116 Qatar University students. Six local schools brought their students to the play. For many students in Qatar this was their first experience of live stage drama.
There was considerable local media coverage of The Tempest in print, on the internet and on Qatar Foundation radio. Overall we believe this was both a successful academic project and educational entertainment reaching out to the community in Qatar. The production was colourful, creative and both co-directors feel, enthusiastically engendered the spirit of Shakespeare's southern Mediterranean stage play.
Reviews
Holla, Anand. "The Tempest a hit with regional twist." Gulf Times 12 Nov. 2015: 20.
Alp, Emily. "A Shakespearean Storm." QH Oct. 2015: 42-43.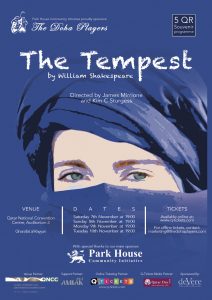 Program: Part 1 | Part 2 | Part 3
Directed by James Mirrione and Kim C Sturgess
(for The Doha Players)
Cast:
Prospero – Mione van der Merwe
Miranda – Katie McIlroy
Caliban – Hussam Aitelqadi
Ariel – Dawn Fawcett and Olivia Babski
Ferdinand – Sebastian Delascasas
Antonio – David Pearson
Sebastian – Kerry Suek
Gonzalo – Chris Parnell
Alonso – Tom Hogan
Stephano – Tim Irish
Trinculo – Gary Mond
Boswain – Femke Manischler
Master & Adrian – Steve Rich
Production team
Costume
Cynthia Tulip, Noreen Janson
Stage manager
Richard Henderson
Makeup & Hair
Rita Leitão
Production assistant & Props supervisor
Kat Cooper
Lighting
James Mirrione
Stage hands
Beth Brown
Video documentary
Salome Qassim, Nermin Eltahawy, Merna Fayez
Publicity and PR
Dawn Fawcett, Mione van der Merwe
Programme Photography
Jessie Palanca, Nermin Eltahawy, Merna Fayez, Kim C Sturgess, David Brown
Video production
Richard Henderson
Choreography for opening solo dance
Taleitha Owens, Laura Knight Academy of Dance
Music
Michael Pignéguy, Peter Kondor
Programme
Gemma Swan, Kim C Sturgess. Additional text by Elaine Potter.
Tempest graphic
Mione van der Merwe
The Tempest
Clips
Highlight from The Doha Players' The Tempest – In Act 1 Scene 2 of the play, Prospero calls forth both Ariel and Caliban to assign them tasks. While Ariel is...more
Highlight from The Doha Players' The Tempest – In Act 1 Scene 2 of the play, Prospero calls forth both Ariel and Caliban to assign them tasks. While Ariel is agreeable and responds to Prospero's beckoning almost immediately, Caliban is reluctant to appear and even attempts to curse his master.
Filmed by Ahmed Aitelqadi. less
Documentaries
A 2015 documentary film directed by Nermin Eltahawy, Salome Qassim, and Merna Fayez and narrated by Nabil AlNashar. It chronicles the development of the 2015 adaptation of William Shakespeares' The...more
A 2015 documentary film directed by Nermin Eltahawy, Salome Qassim, and Merna Fayez and narrated by Nabil AlNashar. It chronicles the development of the 2015 adaptation of William Shakespeares' The Tempest by The Doha Players in Qatar and offers a behind the scenes look at the collaboration between the actors and the directors Dr. James Mirrione and Dr. Kim C. Sturgess from the University of Qatar. less
Venue:
Qatar National Convention Centre, Doha, Qatar