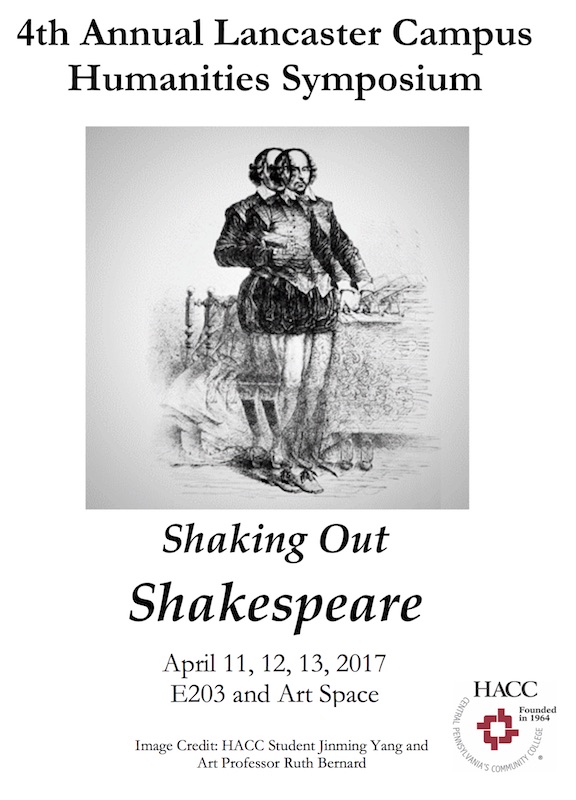 The Lancaster Campus of HACC, Central Pennsylvania's Community College, hosted its fourth annual humanities symposium from April 11-13, 2017. The three-day event, titled "Shaking Out Shakespeare," attracted over 600 students, faculty, and community members, and explored the profound influence of William Shakespeare on the arts, humanities, and sciences.
Events included presentations on Shakespeare authorship conspiracies, the ongoing legacy of Ophelia, and pop-up performances by local Shakespeare group The People's Shakespeare Project. Reference and Instruction Librarian Kimberly Grotewold and Assistant Professor of English Hetal Thaker utilized the MIT Global Shakespeares Video and Performance Archive in their presentation "The World's a Stage: International Productions of Shakespeare," exploring cultural influences in Brazilian, Korean, and Taiwanese productions. The symposium also featured a curated art show by Millersville University Associate Professor of Communication & Theatre Victor Capecce entitled "Staging Shakespeare."
Visit Shakespeare Across Subject Areas, the resource guide HACC librarians created to support the event at http://libguides.hacc.edu/shakespeare.