No video is currently available for this production.
III. Richard: Niçin Yaptım (Richard III: Why Did I Do It)
III. Richard: Niçin Yaptım (Richard III: Why Did I Do It) is an adaptation of Shakespeare's Richard III written by Kerem Kurdoğlu who makes use of Turkish translations of the play by Berna Moran and Bülent Bozkurt in the composition of his rewriting. First presented by the 26. İstanbul Theatre Festival in November 2022, the play tells Richard III's story in a one-man show in which Hakan Gerçek, acting as Richard, embarks on the news that Richard III's bones had been discovered under a parking lot in Leicester in 2012. Yet he is at pains to prove that what people are about to watch on stage is Richard's real story, not the news recounting his story. Throughout the play, Richard actively uses the screen behind him to present slides of his family tree, illustrations of characters, maps and his to-do list to make the audience easily follow his complicated plots to seize the throne. In a metadramatic way, he also challenges Shakespeare's authority over him as a character since he advocates his own power and agency rather than that of the playwright. Although Richard is accompanied by a wheelchair, which symbolically represents the throne, he does not appear to have a disabled body except for the scenes in which he refers to his dialogues with other characters. At these moments, Richard puts a white fabric ball, attached to his black trousers, on his shoulder which effectively creates the image of Richard with a hunchback. It is true that the play produces an echo of Shakespeare's Richard III, but Kurdoğlu's rewriting takes a closer look at the motivation for Richard's murders and highlights his dark nature. In reference to its title, the play ends with Richard's confession that he is not only a representative of evil but also an examplary of evil that lies in the nature of humankind in a direct address to the audience.
Cast
Hakan Gerçek
Adaptation
Kerem Kurdoğlu
Director
Mehmet Birkiye
Costume Design, Décor, Illustration
Şirin Dağtekin Yenen
Dramaturgy
Mehmet Birkiye, Kerem Kurdoğlu
Music
Serdar Yalçın
Lighting
Cem Yılmazer
Video
Maya Kurdoğlu
Photographer
Egemen Pırlant
For more information, visit Tiyatro Online and Tiyatro IKSV.
Mehmet Birkiye (director) and Hakan Gerçek's (actor) introduction to the play (no subtitles yet).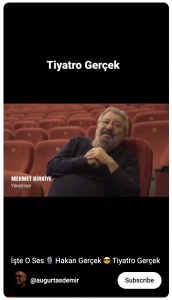 Further Reading
Vural Özbey, Kübra. "An Overview of III. Richard: Niçin Yaptım  (Richard III: Why Did I Do It)." Turkish Shakespeares. 2022.
---
Production notes provided by Dr. Kübra Vural Özbey, Muğla Sıtkı Koçman University, Turkey.
III. Richard: Niçin Yaptım (Richard III: Why Did I Do It)
Title:
III. Richard: Niçin Yaptım (Richard III: Why Did I Do It)
Venue:
Alan Kadıköy, İstanbul, Turkey