Hamlet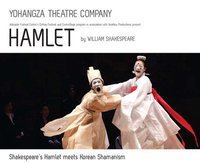 Performed on September 18, 2010 at the Adelaide Festival Centre's OzAsia Festival and CentreStage program in association with AsiaNow Productions
HAMLET
by William Shakespeare
Yohangza Theatre Company
Shakespeare's Hamlet meets Korean Shamanism
One of Shakespeare's best known tragedies of revenge and intrigue is given a Korean twist.
From the internationally acclaimed company that presented the fresh Korean interpretation of A Midsummer Night's Dream at the Adelaide Festival Centre in 2007, Yohangza Theatre Company is known for ingeniously weaving Shakespeare with Korean folklore.
Yohangza faithfully recreates the tragedy and drama of Shakespeare's original Hamlet in contemporary Korean language. The staging, costumes and music integrates Korean tradition and shamanism.
Hamlet 's halting pursuit of revenge for his father's death unfolding in a series of highly charged confrontations is presented by eighteen actors of the company with a Korean interpretation of Shakespeare's script and accompanied by modernised traditional shaman music.
This is Hamlet like you have never seen it before.
Director: Jung-Ung Yang
Designer: Yim Iljin
Suitable 14+ years
PLEASE NOTE: Show is performed in Korean with English Surtitles
[Description includes excerpts from Facebook page about this event.]
Additional Information
http://asianow.kr/menu02/m02_sub03_3.html
Reviews
http://www.theaustralian.com.au/archive/arts-arc/spirited-korean-take-on-denmarks-woes/story-e6frg8po-1225926373952
http://www.thebarefootreview.com.au/archive/2010/53-hamlet-yohangza.html?tmpl=component&print=1&page=
http://m.eng.theapro.kr/PB/main.asp?cate=1&pageNo=1&state=view&idx=6067&sub_num=26 (English)
http://news.donga.com/O2/Column/Indie03/3/20040400000003/20091119/24224705/1 (Korean: The Dong-a Ilbo review)
Related Media
http://blog.ashgate.com/2012/04/27/a-collage-of-recitations-of-hamlets-to-be-or-not-to-be-speech-in-different-languages/
Venue:
Adelaide Festival Centre, Adelaide, Australia