Note for clip being currently displayed
Production description
A Midsummer Night's Dream
The production toured to the Barbican in London in 2006, and was invited back to London in May 2012 at the London Globe as part of the World Shakespeare Festival.
With a small but versatile cast (many of whom play several roles), the adaptation focuses on the key plots of the two pairs of lovers and the battle between the fairy king and queen, with a twist. Their kinetic energy is remarkable. Bottom is called Ajumi, a superstitious elderly woman gathering herbs in the mountains. The adaptation draws on traditional Korean folklore to portray the world of the fairies (dokkaebi). Puck is portrayed as twins played by two talented actors.
— Description written by Alex Huang.
Yohangza Company
Seoul, South Korea
Director YANG Jung-ung
Korean script by YANG Jung-ung
English translation by Alyssa Kim (which was used on subtitles while the production went on tour)
LEE Kangsun was commissioned by the Asian Shakespeare Intercultural Archive (A|S|I|A) to translate the stage directions in the Korean script into English, these stage directions being missing from the company's English subtitles (by Alyssa KIM).
Yohangza means travelers
Premiered in 2002
Cities: Miryang, Seoul, Busan, Uijeongbu, Namyangju, Gwacheon, Suwon, Jeonju, Tokyo, Poznan, Gdańsk, Manizales, Bogota, Quito, Habana, Edinburgh, London, Bristol, Cardiff, San Salvador, Neuss, Parramatta (Sydney), Adelaide, Perth, Melbourne, Hong Kong, Macau, Taipei, Taoyuan, Singapore, Chennai, Brussels, Dijon
Reviews
Review in Australian Stage Online about 2010 tour.
Review in London Korean Links about the performance in the 2012 Globe to Globe Festival.
For behind the scenes information:
http://asianow.kr/menu02/m02_sub03_1.html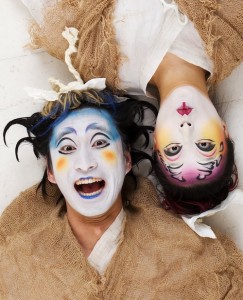 Full video
Note: This is the full video
Duration: 01:31:12
1 of 6 Lovers plot escape
Note: Byeok is planning to escape with Hang to avoid marriage with Loo. Byeok tells Ik about their plan.

(Act 1, Scene 1: 128-251)
2 of 6 introduction of Gabbi (Oberon) and Dot (Titania)
Note: Gabbi plans to go out at night to seek mortal women, and Dot is not happy about this. She orders Duduri to get lily of the valley, a poisonous flower that will make someone fall in love with the first person they see. After Duduri sets out, Dot sees Ik chasing after Loo, and empathizes with Ik. Later, Duduri returns with the flowers.

(Act 2, Scene 1: 60-268)
NOTE: the roles of Oberon and Titania are reversed.
3 of 6 Spells are cast
Note: Gabbi falls asleep as no women appears in his range. Dot comes out to cast the spell with the lilies. Then, in comes Hang and Byeok lost in the woods. Hang tells Byeok they should wait until sunrise and Byeok agrees. Hang makes advancements to Byeok, but she refuses him and tells him to wait until they are officially married. So they end up singing their love for each other, and fall asleep. Duduri come to cast the spell on Loo as Dot ordered, but they mistake Hang for Loo. After they finish putting the spell on Hang, Loo and Ik enter. Loo abandons Ik. Frightened by wild woodland creatures of the night, Ik tries to find a safe place and encounters Hang. He wakes up and falls in love with Ik, but she thinks Hang is mocking her. When they exit, Byeok wakes up from a nightmare and calls for Hang who has already left.

(Act 2, Scene 2)
4 of 6 Ajumi (Bottom) encounters spirits in the woods
Note: Ajumi enters the woods to look for a rare herb that her dying grandmother told her to look for. Scared of other creatures in the woods she performs superstitious tricks to cast away the evil spirits and Dokgabbis. Then Duduri come to put the pig head on Ajumi. Gabbi wakes up, sees Ajumi, and falls in love with her (with the pig head). Gabbi is completely infatuated with Ajumi, and tries to seduce her.

Note: Ajumi is suppose to be Ajumma a rather condescending word used to describe Korean women who become very resilient and strong after giving birth. Ajumi here at first intends to say that "she is just an Ajumma" but she changes it to Ajumi to make it sound more feminine in front of Gabbi.

(Act 3, Scene 1)

NOTE: Dokgabbi is a fairy like spirit in Korean traditional folklore. They are evil but in a benign way, like playing tricks on humans for fun. They are known to originate from old furniture and objects that are discarded.
5 of 6 The lovers quarrel
Note: Dot and Duduri reconvene, and as Byeok and Loo enter, they realize that Duduri have chosen the wrong guy (Hang). Byeok thinks Loo killed Hang and tries to get away from him. In despair, Loo dances (see related links: Han Lyang Moo) and goes to sleep in the hopes of seeing Byeok in his dreams. While he sleeps, Dot sends Duduri to find and bring Ik as she makes casts the same speel with the lilies on Loo. When he wakes and sees Ik, he falls in love with her. Hang enters and the two men starts to fuss about who will be with Ik. Byeok enters. Ik thinks all of this is a joke and that they, including Byoek, are making fun of her. They start fighting. Dot watches over this and orders Duduri to stop them.

(Act 3, Scene 2)

NOTE:
Han Lyang Moo
This is a man's traditional dance. Han Lyang means men who liked to spend the day with music and dance, and not study (in those times - Chosun Dynasty, all eligible men studied for a royal position). This dance is intended to free the souls of stressed out scholars and non-scholars.
http://www.youtube.com/watch?v=cFDbYXKHWvY
6 of 6 The dreaming comes to an end
Note: Gabbi indulges Ajumi with everything he can afford, and Ajumi enjoys this. He sings a verse (slightly altered) of "sa rang ga" (see related links of Pan so ri) which speaks of his true love towards Ajumi. After seeing all this, Dot releases Gabbi from the spell, and as he awakes, he thinks he had a terrible dream and swears to be faithful to Dot. Loo, Byeok, Hang, and Ik are all waken from the spell. Hang and Byeok reunite, and Ik and Loo are now mutually in love. Ajumi wakes up and finds the very precious herb that her grandmother was talking about.

(Act 4, Scene 1, excluding the parts with Theseus and Hippolyta)

NOTE:
Pan-so-ri
This is a form of folk music where the singer tells a story. The clip is part of the Korean version of Romeo and Juliet called Chun Hyang Jun, a famous verse named sa rang ga (love song). In the play, although maybe not as deep in voice, but it uses the pan so ri technique in telling the story. From time to time, the instrumentalist who is sitting on the side, says small phrases which is called choo im sae. It is meant to excite the storytelling of the singer. You can see this sometime in MND when the actors playing the instruments makes noise like sounds. They are usually saying "ul ssoo!" "jo ta!" which doesn't really have a meaning but more of sounds to show that they are having fun.
http://www.youtube.com/watch?v=Cw5mHm1Tz0Y