O Bobo do Rei (The King's Fool)
O Bobo do Rei (The King's Fool) transposes the tragic elements from King Lear into Commedia dell'Arte Stock characters. King Lear carries characteristics of the old cantankerous Pantalone, but also displays the lyricism of of an aged man who has to overcome his biggest tribulation yet to reach wisdom. Goneril and Reagan become female Brighellas, scheming and vindictive. Cordelia is performed in the style of the romantic Inamoratti. The court jester is Arlequino, intelligent and witty enough to pass as fool, the fool is the voice of wisdom and truth. The story is told from his perspective.
After King Lear is deserted by Goneril and Regan, Cordelia disguises as the fool in order to protect her weary father. They wander the world together. The ingenious music was composed for the production and is performed and sung by the actors. The lyrics are punctuated by puns and poetry.
O Bobo do Rei received the Associação Paulista de Teatro (Sao Paulo Theatre Association) for best cast. It also received FEMSA 2009 award for Best Direction, Best Costume Design and Actress (Tereza Gontijo).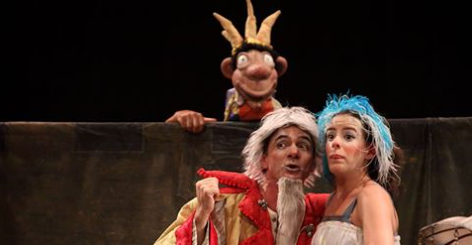 Credits:
Script writer and Director: Angelo Brandini
Music Director: Fernando Escrich
Stand-in: Christiane Galvan
Set design: Marco Lima
Costume: Christiane Galvan
Lighting design: Lígia Chaim
Props and puppets: FCR Produções (Luis Rossi)
Seamstress: Silvia Castro.
Music assistant: Maria Fernanda Oliveira
Production Assistant – Marina Mioni
Production: Cia. Vagalum Tum Tum
Performers:
Davi Taiu – King Lear
Tereza Gontijo – Cordelia / The Fool
Anderson Spada – Regan
Val Pires – Goneril
Erickson Almeida – Guitar and sound effects.
Background links:
To read about Cia Vagalum Tum Tum click here.
(Production notes provided by Cris Busato Smith)
O Bobo do Rei (The King's Fool)
Clips
Highlights from Cia Vagalum Tum Tum's O Bobo do Rei (King Lear): 1) 00:00 – 04:01 Cordelia: "nothing, my lord"; King Lear and the Fool 2) 04:01 – 06:39 Goneril...more
Highlights from Cia Vagalum Tum Tum's O Bobo do Rei (King Lear):
1) 00:00 – 04:01 Cordelia: "nothing, my lord"; King Lear and the Fool
2) 04:01 – 06:39 Goneril and Reagan sing  "Hahaha"
3) 06:39 – 07:19 Cordelia disguised as the fool
4) 07:19 – 10:04 Song "The Old Man and the Kid"
Title:
O Bobo do Rei (The King's Fool)