No video is currently available for this production.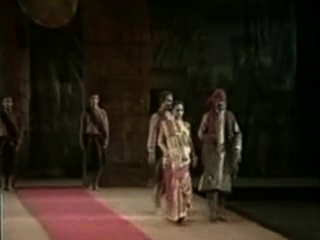 Opening sequence: the grand entry (0:01:11)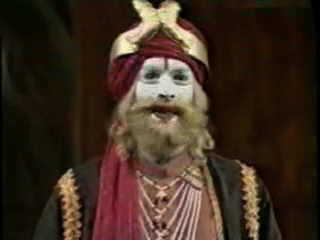 Lear's speech to his daughters (0:00:18)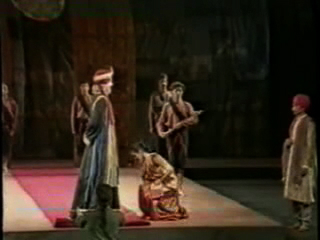 Goneril's ritualistic flattery (0:01:08)
Artful Regan (0:00:27)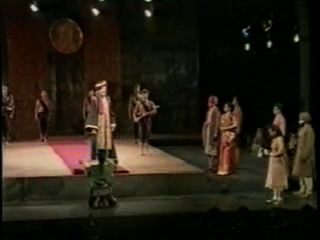 Cordelia's "nothing" (00:01:00)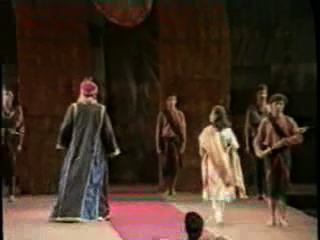 Cordelia's truth (0:00:50)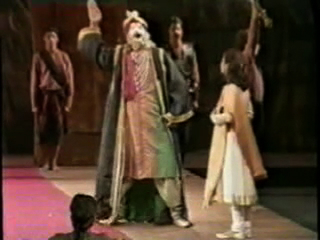 Lear's curse (0:00:41)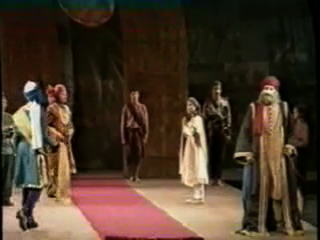 France proposes to Cordelia (0:00:33)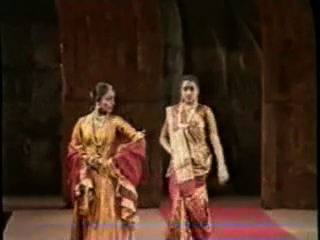 Goneril and Regan confer (0:01:09)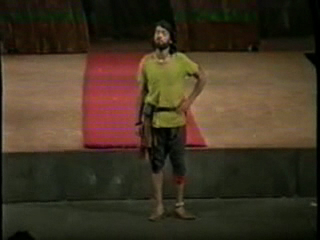 Edmund's soliloquy (0:00:42)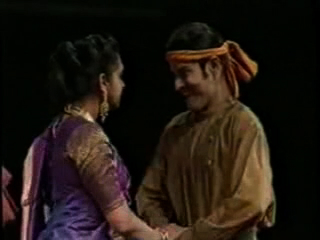 Goneril's impatience (0:00:17)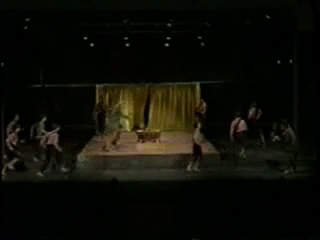 Lear's ritual preparation for a meal (0:01:59)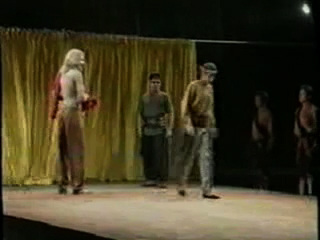 Oswald's "slack" (0:00:13)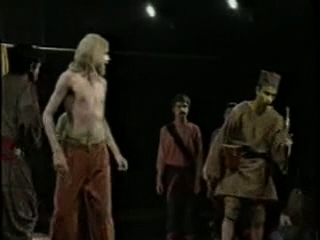 The Fool caps Kent (0:01:04)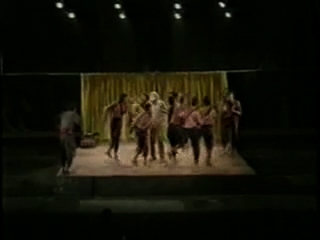 The Fool's wit in song (0:00:24)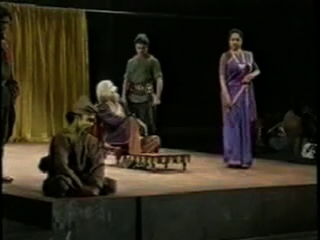 Goneril and Lear clash (0:00:55)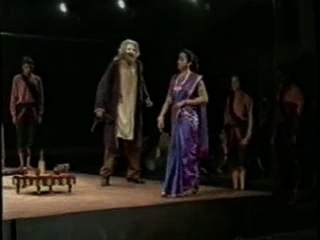 Goneril criticizes, the Knights protest (0:01:03)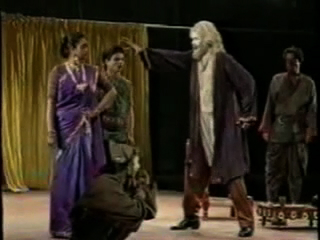 Lear curses Goneril (0:00:22)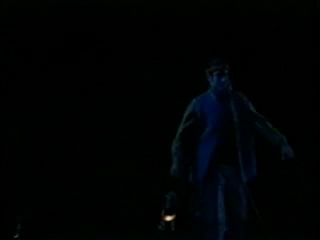 Kent roughs up Oswald (0:01:18)
Final blow: "What need one?" (0:00:43)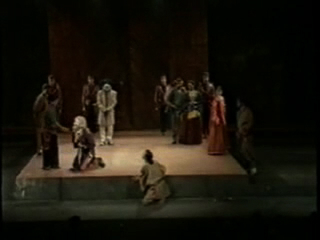 Grief and rage at his rejection (0:00:24)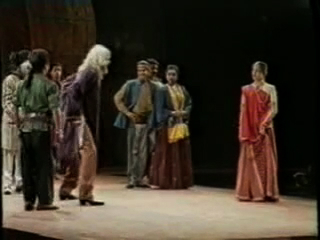 Premonition of madness (0:01:04)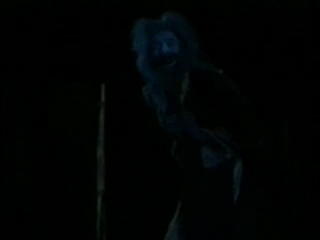 Storm scene (00:00:43)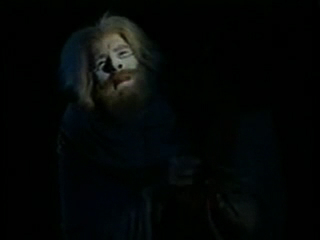 Rage turns to self-pity (0:00:06)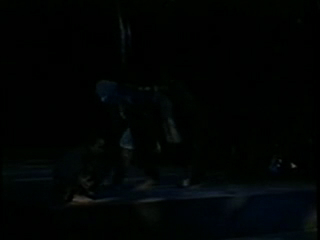 Remembers the Fool (0:00:56)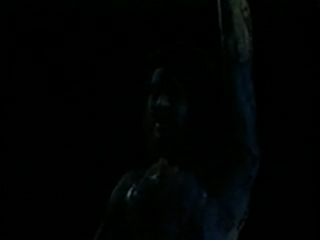 Poor Tom (0:01:14)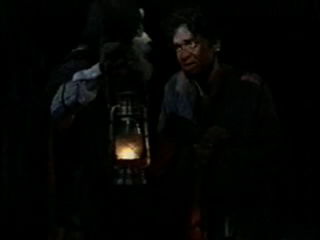 Unaccommodated man (0:00:02)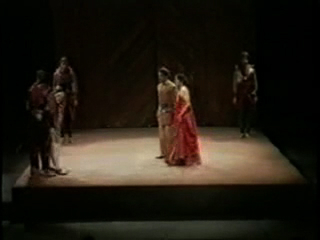 The mock trial (0:00:34)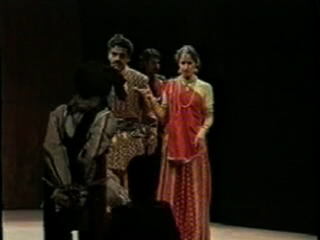 Regan plucks Gloucester's beard (0:00:31)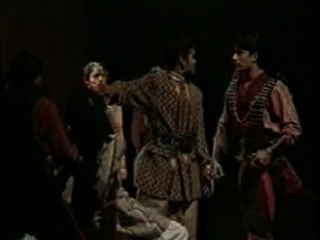 The blinding of Gloucester (0:00:57)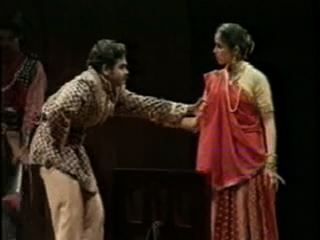 The servant's challenge (0:00:27)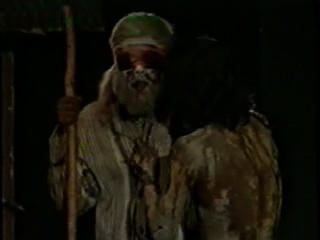 Regan turns her back on Cornwall (0:00:27)
Gloucester and Poor Tom (0:01:08)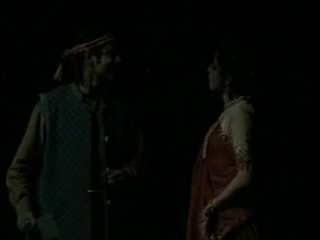 Goneril gives a token to Edmund (0:01:13)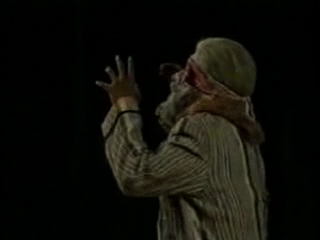 Regan tries to manipulate Oswald (0:00:11)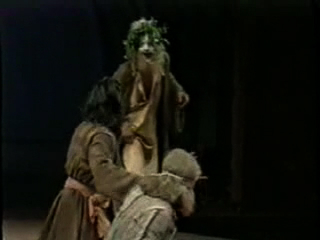 Gloucester and Edgar in Dover (0:00:30)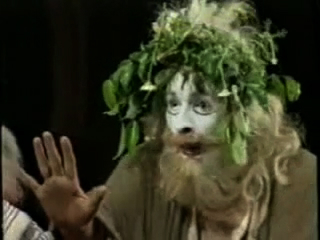 Gloucester's suicide (0:01:08)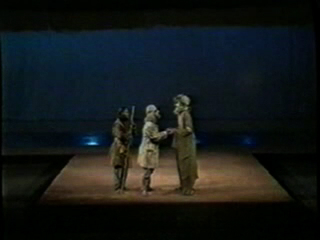 "Mad" Lear (0:00:04)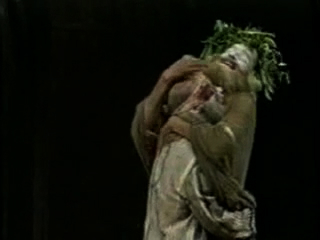 Handy-dandy wisdom (0:00:33)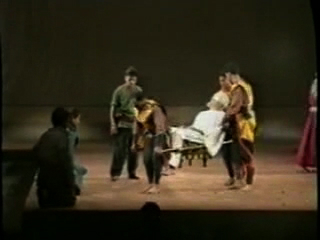 Self-recognition in the world of fools (0:01:16)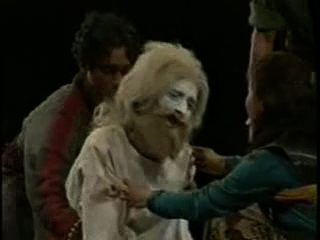 Lear asleep (0:01:10)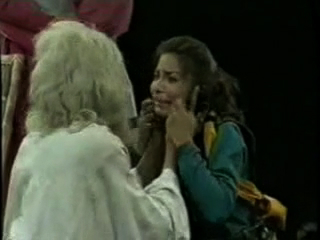 Lear reborn (0:00:29)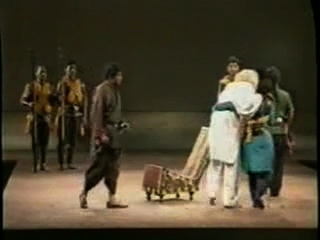 Lear contrite (0:00:14)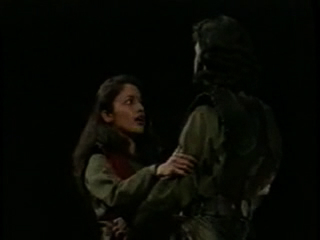 Lear begs forgiveness (0:00:06)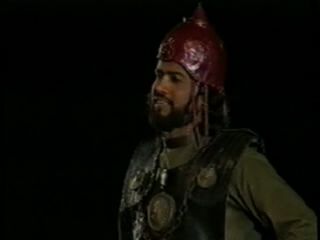 Edmund's soliloquy (0:00:39)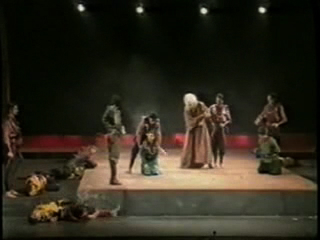 Battle scenes (0:00:27)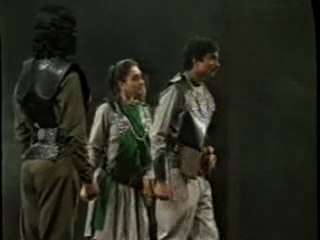 Lear welcomes imprisonment with Cordelia (0:01:43)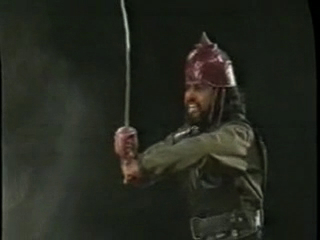 Regan and Goneril squabble over Edmund (0:00:47)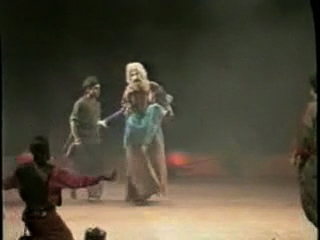 Edgar's challenge (0:00:51)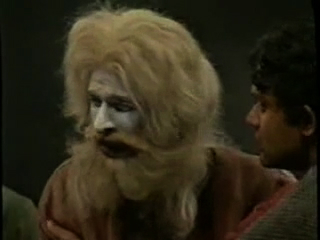 Lear with the dead Cordelia (0:00:25)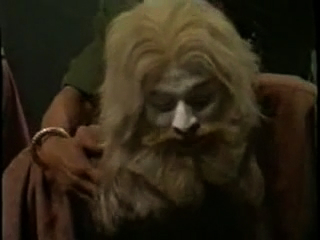 The recognition of Kent (0:01:12)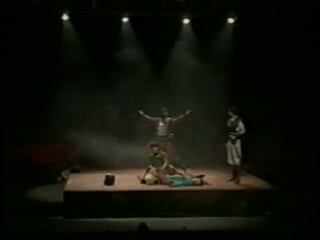 Death of Lear (0:00:30)
prev
next
Samrat Lear (King Lear)
Samrat Lear, a March 1997 Hindi-language adaptation of King Lear by the National School of Drama in New Delhi.  Directed by John R. Brown from a script by Harivansh Rai Bachchan.
Read more about the "localized Shakespeare" performance style.
Cast
Lear – Chetan Pandit
Goneril – S. Shameem
Regan – Megha Malik
Cordelia – Sunita Chand Rajwar
Albany – Sanjay Kumar
Cornwall – Hrishikesh Joshi
France – Firoz Zahidkhan
Burgundy – Moloy Ghose
Kent – Rajiv Kumar
Gloucester – Ashraful Haque
Edgar – Dibyendu Bhattacharya
Edmund – Manohar Teli
Oswald – Moloy Ghose
Fool – Manoj Goyal
First Knight – Rajpal Singh Yadav
Curan – Noushad Mohamed
Old Man – Mohamed Ashique Hussain
Doctor – Hrishikesh Joshi
Herald – Moloy Ghose
Performers were Third Year Students at the National School of Drama (New Delhi, India). First performance took place at the National School of Drama's indoor auditorium, Abhimanch, New Delhi, India.
Samrat Lear (King Lear)
Clips
Essays
The universalized Shakespeare stream is seen through a Marathi production, directed by Sharad Bhuthadia, by profession a pediatrician, but belonging to a category prominent in India, of the amateur professional.more
The universalized Shakespeare stream is seen through a Marathi production, directed by Sharad Bhuthadia, by profession a pediatrician, but belonging to a category prominent in India, of the amateur professional. These are artists who do not earn their main living in theatre, yet devote all their leisure and creative energy to it, run theatre groups and even travel with their shows to different parts of the country. Bhuthadia's group, Pratyaya, chose to perform Lear inspired by the much acclaimed translation by Vinda Karnadikar, eminent Marathi poet, who is able to capture the nuances of Shakespeare's language without sacrificing its images or allusions.
A faithful translation, it was performed in a manner 'faithful' to the tradition of realist staging of Shakespeare. This has been the most common staging practice for Shakespeare in India. Based on universalist assumptions of a stable and authoritative text, it performs Shakespeare straight letting the text speak for itself. It seeks to let the past live in the present, playing up its foreignness. Though sometimes critiqued as "derivative" and "essentialising," this universalist staging practice, particularly in our colonial and postcolonial context, functions as an empowering mimicry. "Doing it like them" becomes a mastering of the master colonising text.
Further, the group, Pratyaya, coming from a provincial town like Kolhapur, is able to eschew the market rules of Bombay theatre: "Ours is a focused outlook on theatre," says Sharad Bhuthadia, asserting that they choose to do meaningful theatre which can "go beyond and handle genuine human problems by going deep into the understanding of man's life" (quoted in a review, Independent Journal of Politics and Business, 20 August 1993). Bhuthadia's Raja Lear thus did not need any further entry points into the play, and while it performed an edited version, in three acts,    it nevertheless, did full justice to the main themes of the play.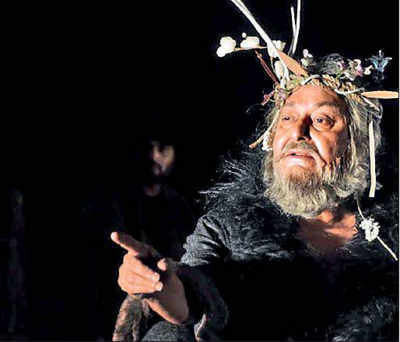 Its singular achievement was a deeply felt and internalized performance, not always easy for Shakespeare in translation; it received universal praise: "A high-powered fidelity to a Shakespearean text…. Never before had Marathi sounded so good on stage. Raja Lear was not just believable, it was real," said R Ramanathan in the Independent Journal, while the Indian Express (20 August 1993) titled it a "Class Act."
So successful was the universalizing of this production that critics had no difficulty in contemporising the play: "Lear becomes the tragedy of the India we are living in – the tragedy of a great nation being torn apart by centrifugal forces: of a political class composed of an imbecile king surrounded by sycophants    (Regan    and    Goneril)    and ruthless manipulators (Edmund); of the voices of sanity being disowned (Cordelia) and banished (Kent) or simply disappearing (Fool); of goodness having to pretend insanity (Edgar). Lear, then, does not remain the tragedy of one man. It becomes the tragedy of an entire people, an epoch." (Sudhanva Deshpande, The Times of India, January 1993).
The localized Shakespeare is another performative style, particularly favoured in the earlier years, which imported a definite Indian flavour and colouring to transform the alien vastness of the text into an accessible familiarity. The degree of change varied: while the adaptations of the Parsi theatre in the 1880s took great liberties with Shakespeare's plot, character and even words, the post- independence localizations have been attempts to root Shakespeare more acutely in a specific local ambience. The production, chosen to illustrate this stream of performance, is a student production of the National School of Drama. Samrat Lear, directed by John Russell Brown.
The National School of Drama, in New Delhi, has a tradition of inviting directors from different parts of the country and from abroad to train their students in a variety of performative styles. Visiting English directors have often chosen to direct Shakespeare even though the performances are always in a Hindi translation. John Russell Brown's production played almost the full text – a marathon three and half hour long performance – in a translation by Harivansh Rai Bachchan, one of the foremost Hindi poets of the twentieth century. Brown's own closeness and expertise with the English text gave the production sharply etched characterisation, robust energy, and a particular focus on the narrativisation of the story.
Its localization was not to resituate the story in another well-defined place or period, but to let its relocation emerge from the theatrical event in Delhi. "I have not localised the story in any specific way," Brown said in an interview with the author, "because we were not doing an "authentic" Indian production. I wanted this Lear to speak beyond the moment." To this end, he said, he had "encouraged the [student] actors to use their own 'folk' physicalities, (their own understandings of their theatre traditions) in their responses to s," because he believed that a "play lives between the actor and the audience." The result was a fairly successful attempt to meld the conventions of the traditional theatre, the style of the modern Indian theatre with the speech rhythms of Hindi onto the story of Shakespeare.
Traditional Indian costuming and music added the finishing touches. As Kavita Nagpal, seasoned theatre critic, remarked, the production made "the play breathe in a way that was both historical and contemporary" (Hindustan Times, 15 March 1997).  Both these productions, the universalized Shakespeare, Raja Lear, and the localized Shakespeare, Samrat Lear, though divergent in their performative styles, shared a conventional interpretative stance. They ventured no innovative critical perspectives on the text, trusting a 'straight' telling of the tale. They both proved that Shakespeare in translation could successfully speak to its audiences.
The indigenised Shakespeare is perhaps the most creative and, therefore, somewhat controversial form of staging Shakespeare in India. Here, the Shakespeare text is not just adapted but appropriated and acculturated into an indigenous theatre form. Devotees of the literary text find this kind of transformation a desecration; yet successful indigenisations, which immerse Shakespeare's text into another aesthetic and cultural worldview, can spark off new meanings and fresh configurations of the same text. The production chosen to illustrate this genre of performance is a rewritten version of Lear entitled Iruthiattam (The Final Game) directed by R. Raju from a Tamil translation and adaptation made by well-known novelist and playwright, Indira Parthasarathy and presented by the theatre group, Arangam. R. Raju, from the School of Performing Arts at Pondicherry University, and a former NSD graduate, belongs to the Kerala school of experimental theatre, the 'nataka karali,' making appropriation and adaptation his metier. And Arangam is no ordinary theatre group either; it consists of highly skilled artists – dancers, musicians and folk theater practitioners – in their own right. Together they created a tightly structured, economical production distinguished by consistency and unity of rasa or mood. It interprets the play in terms of a power struggle, retains part of the sub-plot to make a feminist point that sons too can be cruel, and ends with the storm scene at the end of which Cordelia appears to rescue Lear.
But its indigenisation derives more from its performative style, which adapts the conventions of the terukutoo, a popular street theatre folk form of Tamil Nadu, traditionally performed by the socially disadvantaged. The inherent subversivness and spontaneity of the terukutoo, centering on the improvisatory energy of the fool I komali, was the main interpolation into the text and this was specially manifested in the highlighting of a contrapuntal relationship between the fool and the king. The strong phyicalised style, acrobatic and earthy, with its vigorous song and dance routines, made Iruthiattam lively and entertaining, transforming King Lear from a reworked classic into a kind of a 'people's Shakespeare.'
Even though the adaptation was titled "The Final Game" it did not in the least subscribe to a Beckett-like doom and gloom of Endgame. Since this version took liberties to play around with and cut up Shakespeare's canonical text to suit its own radicalising perspective, it may also be seen as an example of the postcolonial Shakespeare.
Apart from these, the English language Shakespeare is best represented by an amateur student production of King Lear by the St. Stephen's College Shakespeare Society, one of the oldest collegiate dramatic societies with an almost unbroken record of performing Shakespeare for over 75 years since 1924. Arjun Raina, a young actor director worked closely with the students drawing out their impressions and structuring them into stageble ideas. The production was marked by an iconoclastic irreverence, at times a plainly undergraduate-ish swipe at tradition, which nevertheless produced some novel stage images, e.g. the introduction of a whimsical Lear in boxer shorts and gloves brought onstage reclining in a brightly coloured coffin symbolizing the death of the monarch.
The rest of the cast sat on and moved around with high but crude wooden stools that wobbled and wavered at every step, imaging Lear's world as full of social climbers caught in the instabilities of the social hierarchy. The characteristic opening sequence had all the court, clad in black and white, looking harlequinesque, streaming in to 'view' the show of Lear's division of the spoils through tinseled masks and opera glasses (these were changed to dark glasses after the blinding of Gloucester) as also looking, observing, spying on each other – all heightened, perched on the wooden stools. Lear chased his screaming daughters down the stage and then pieces of cake were passed around during the division of the kingdom.
Though this production was peppered with more deconstructive sallies than it could ultimately pull through coherently, it was unusual in the liberties it took – informed by the iconoclasm of contemporary western staging practice – because the norm for the English language collegiate Shakespeare, performed for a pedagogic purpose, has been a traditional staging in period costume. less
1832 Scenes, Lear (III.iii), English, Chowringhee Theatre, Calcutta. 1880 Atipidacarita, Marathi, tr./adapt. S M Ranade, Aryodharak Company, Poona. 1897 Rajavu Lear, Malayalam, tr./dir./actor Govinda Pillai, Trivandrum. more
(Citing language, translator, director, group and place based on available information).
1832     Scenes, Lear (III.iii), English, Chowringhee Theatre, Calcutta.
1880     Atipidacarita,    Marathi, tr./adapt. S M Ranade, Aryodharak Company, Poona.
1897     Rajavu Lear, Malayalam, tr./dir./actor Govinda Pillai, Trivandrum.
1906     Har Jeet, Urdu. Munshi Murad Ali, dir. David Joseph. Victoria Theatrical Company, Bombay.
1907     Safed Khoon, Urdu, Agha Hashr Kashmiri, Parsi Company, Bombay.
(1919)          "          "          Jalal Ahmed Shah
1962     Lear, English, St Stephen's College Shakespeare Society with Roshan Seth, Delhi.
1964     Raja Lear, Urdu, tr. Majnoon Gorakhpuri, dir. Ebrahim Alkazi, National School of Drama, Delhi.

1977     Raja Pagala Aur Teen Betiyaan, Hindi, Bhopal Madhya Pradesh Kala Parishad, dir. B.V. Karanth (Bhopal Rang Manch 1978?).
1978     Lear, Marathi. readings, V. Karandikar, (tr.) Indian National Theatre, Bombay
1978     Mannan Lear, Tamil, tr. Aru Somasundaram.
1981     King Lear, Urdu, tr. Majnoon Gorakhpuri, dir. Barry John, NSD, Delhi.
1982     Teen Kanya, Bengali, tr./adapt. Amar Ghosh, in jatra form with Shamul Ghose.
1984-5 Nandabhupati, Kannada, tr. Gopal Vajpayee, dir. Jayatirtha Joshi, at Gadag, Dharwar.
1985     Hemchanda, Kannada, tr. Puttanna, dir. B.Suresh, Bangalore Chitra Abhinayaranga, Bangalore.
1986     Raja Lear, Bengali, tr./dir./actor Salil Bandhyopadhyay, Theatron, Calcutta.
1986     Raja Lear, Hindi, tr. Atul Tiwari dir. Fritz Bennewitz. NSD ?, Delhi.
1988     Raja Lear, Hindi, dir. Fritz Bennewitz, Padatik, Calcutta.
1988     Lear, Kannada, tr. H.S. Shiva Prakash, dir. Raghunandan, Tirugata (Repertory) Ninasam.
1980s   Lear, Bengali, tr./dir. Amar Ghose. Rabindra Bharati University, Calcutta,
(late)
1989     King Lear, Urdu/Hindi, tr./adapt. Neelabh, dir.Amal Allana, Television and Theatre Associates, Delhi.
1990s   Lear, Kannada, tr./adapt. B Chandrashekar, for 2 chars, female's story in flashback, by A. S. Murthy.
(early)
1991     Shakespeare Namaskara, Kannada. Scenes, dir. Fritz Bennewitz, Rangayana, Mysore.
1991     Lear, in Kathakali, dir. Leday and McRuvie, Bombay.
1992     Lear, Kannada, Sagar, one man show.
1993     Raja Lear, Marathi. tr. Vinda Karandikar, dir. Sharad Bhuthadia, Pratyaya, Kolhapur, performed over the decade in Bombay, all over Maharashtra, in Calcutta and in Kasargode.
1996     King Lear, English. Indian Summer Theatre Company, U.K.
1996     King Lear, English, dir. Arjun Raina, St. Stephen's College Shakespeare Society, Delhi, also in Calcutta.
1997     Samrat Lear, Hindi, tr. Bachchan, dir. J R. Brown, NSD, Delhi.
1997     Lear, Kannada, tr. H.S. Shiva Prakash, dir. B.V. Karanth, Prakash Karnataka Natya Akademy Drama Workshop for teachers, Mysore.
2001     Iruthiattam, Tamil tr./adapt. I. Parthasarthy, dir. R. Raju, Kasargode, also at Bharangam 2002, Delhi.
2002     Pagala Raja, Hindi, tr./adapt. Neelab, dir. C. Basavalingaiah, NSD, Delhi. less
King Lear is an appropriate play with which to illustrate these tendencies and periodisation in the performance history of Shakespeare in India.more
King Lear is an appropriate play with which to illustrate these tendencies and periodisation in the performance history of Shakespeare in India. One of the more frequently performed tragedies, it spans all these streams and periods and, in the last twenty years, particularly, it has become a kind of a measure or testing ground of actors and theatre groups. Its first performance in India was in 1832, when some scenes, in English, were done at the Chowringhee Theatre. Calcutta. During the period of 'adapted' Shakespeare, from the 1860s to the 1910s, in the 1880s a happy-ending version of Lear, Atipidacharita (The story of the intensely wronged one), influenced by Nahum Tate, in Marathi, became popular in Bombay. Another adapted and localized version, Safed Khoon (White Blood or Filial Treachery) by Agha Hashr Kashmiri, for the Parsi theatre in 1906, achieved commercial success and was played throughout the country.

1897 saw one of the first faithful translations, A. Govinda Pillai's Malayalam version, Brittanile Rajavu Lear, being staged in Trivandrum, with a meticulous realism which included imported costumes and accessories, before a select audience and with a select cast – noted novelist and playwright C V Raman Pillai played Lear. However, as a performed text, the moment for King Lear in India arrives after independence. St. Stephen's College Shakespeare Society, Delhi, staged Lear in English, in 1962, with a young Roshan Seth – who went on to achieve greater recognition on the international stage and screen – as Lear. Ebrahim Alkazi, one of the foremost contemporary directors, produced a Raja Lear, in Urdu translation, for the National School of Drama in 1964, a production that has become a benchmark of the universalized Shakespeare. In the 1970s several productions in Hindi, Marathi and Tamil are to found, but it is in the eighties that the play comes fully into its own in India. As many as twenty one productions can be listed from this period, in several languages, including Bengali, Kannada, Hindi, Urdu, Marathi, Malayalam and Tamil, in all the different performative modes, of the localized, universalized, indigenised, English language and postcolonial Shakespeares.
Indian audiences have found many affinities with the story of King Lear. An Indian folk tale of an aging maharajah who is brought to grief when he puts the love-test to his three daughters before dividing his kingdom resonates with the same issues. He is shocked to hear the youngest daughter, his favourite, announce that she loves him like salt, a necessity – no more or less – and in anger disinherits her to suffer at the hands of the other two. The idea of banishment and exile as a form of penance, and suffering as atonement for wrongs committed are well-known concepts central to the great Indian epics, Ramayana and Mahabharata.
In everyday life, familial and generational conflict is familiar given the deeply patriarchal setup of Indian society. Further, the power struggle within a family and, by consequence, within the nation is reminiscent, for many readers/viewers, of the contemporary political scene in India where one family continues to be closely identified with the fortunes of the nation. It is the presence of such wide-ranging affinities from within their own culture, ancient and contemporary, that have made Indians take to Shakespeare in general, and King Lear in particular, in a big way. Shakespeare's own setting of the play in a pre-Christian, quasi-pagan context, facilitates such equations. less
Title:
Samrat Lear (King Lear)
Venue:
National School of Drama, Abhimanch, New Delhi, India