No video is currently available for this production.
Romeo and Juliet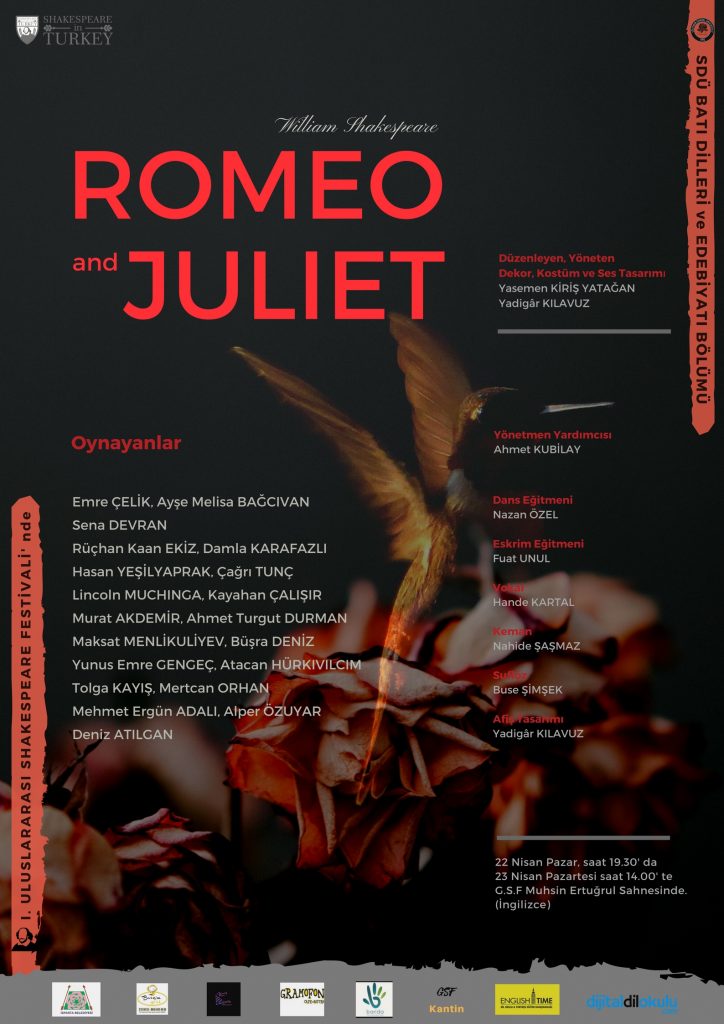 Romeo and Juliet
On the eve of a dark peace, when the shades of sun are too sad to show themselves,
a love bushed out of a long-standing hatred. Such a marvelous and sudden love for someone you abhor…
In the beautiful city of Verona, the hearts stain with the blood of other hearts.
Two unlucky children, Romeo and Juliet, become lovers and the story begins
on the edge of pain, exile and death…
Romeo and Juliet is a production of William Shakespeare's play staged by the Süleyman Demirel University's Department of English Language and Literature at the 2018 International Shakespeare Festival in Isparta, Turkey.
Credits
Playwright:
William Shakespeare
Director:
Yasemen Kiris Yatagan, Ilhan Yadigar Kilavuz
Text Editing, Casting, Costume Design, Lighting Design, Sound Design and Set Design:
Ilhan Yadigar Kilavuz, Yasemen Kiris Yatagan
Dancing Trainer: Nazan Ozel
Swordplay Trainer: Fuat Unul
Actors
Emre Celik (Romeo)
Ayse Melisa Bagcıvan (Juliet)
Sena Devran (Nurse)
Ruchan Kaan Ekiz (Capulet)
Damla Karafazlı (Lady Capulet)
Buse Simsek (Friar Lawrence)
Cagrı Tunc (Benvolio)
Lincold Muchinga (Mercutio)
Kayahan Calisir (Tybalt)
Murat Akdemir (Prince of Verona)
Ahmet Turgut Durman (Paris)
Maksat Menlikuliyev (Montegue)
Busra Deniz (Lady Montegue)
Yunus Emre Gengec (Apothecary)
Atacan Hurkivilcim (Balthasar)
Tolga Kayış Friar (John)
Mertcan Orhan (Peter)
Alper Ozuyar (Page)
Deniz Atılgan (Dancer)
Nahide Sasmaz (Violinist)
Hande Kartal (Vocalist)
Buse Simsek (Prompter)
---
Information provided by İlker Özçelik the regional editor for Turkey and Postdoctoral Fellow, Süleyman Demirel University, Turkey.
Venue:
Muhsin Ertugrul Hall, Süleyman Demirel University, Isparta, Turkey