RIII

Synopsis
Rebellion arises from an otherwise peaceful world. Characters wander eternally in this war-torn world, telling their stories like specters.
Peace comes after a long Civil War. Richard of Gloucester, a crippled and deformed man, observes how his brothers enjoy the power. He decides to follow a peculiar path to seize power. His excessive ambition leads him to the throne of England.
RIII, adapted from Shakespeare's history play, is a theatrical production with a minimalist stage set. The empty space on stage is filled gradually by nine characters who tell their own various stories.
Arden Producciones
Arden Producciones was created in 1995 by Chema Cardeña and Juan Carlos Garés with the goal of performing classical drama in contemporary settings. Arden productions explore contemporary issues through historical characters.
Arden has received numerous prizes for their mis-en-scene, physical and vocal work of their players, and dramaturgy.
About the Director
Chema Cardeña (1963 — ) is a playwright, actor, drama teacher and theatre director born in Cordoba, Spain. In 1970 he moved to Valencia, where he developed most of his dramatic work. He studied geography and history at the University of Valencia.
In 1988 he was admitted in the Instituto Shakespeare of Valencia and started his career as an actor in works directed by John Strasberg, García Valdés, Edward Wilson, Díaz Zamora, Came Portaceli or Michael McCallion.
In 1990 he founded the "L'Americana Teatre" company where he started his career as a playwright. His plays include "Aquí Radio Andorra" and "Anoche fue Valentino". In 1995, he co-founded with Juan Carlos Garés the company "Arden Producciones" which produced The European Classical Theatre Trilogy ("La estancia", "La puta enamorada" y "El idiota en Versalles") and The Ancient Greek Trilogy ("El banquete", "La reina asesina" y "El ombligo del mundo"). A distinctive feature in all these plays, as noted earlier, is that Cardeña uses historical elements, characters and situations to depict our current reality.
Up until now Cardeña has written thirty plays and he has won, among others, the following prizes in Spain:  Crítica de Valencia (1996), A.I.T.A, Alicante (1997), Max Aub de Teatres de la Generalitat Valenciana (1998) and Crítica de Barcelona (1999). He has directed more than twenty plays of his own or adaptations of classical authors like Shakespeare. As an actor, he has performed in numerous films and TV series (Antena 3, Canal 9 – RTVV or TV3) and in 2017 he is nominated for the twentieth edition of the Premios Max de las Artes Escénicas in the category of best supporting actor. Cardeña is a founding member and artistic director of Sala Russafa in Valencia.
The Evil Trilogy
The Evil Trilogy by Chema Cardeña and Juan Carlos Garés explores evil and human nature, taking inspiration from several Shakespearean plays, including Iago, Richard III, and Lady Macbeth. The trilogy posits that evil is an inherent part of the humanity.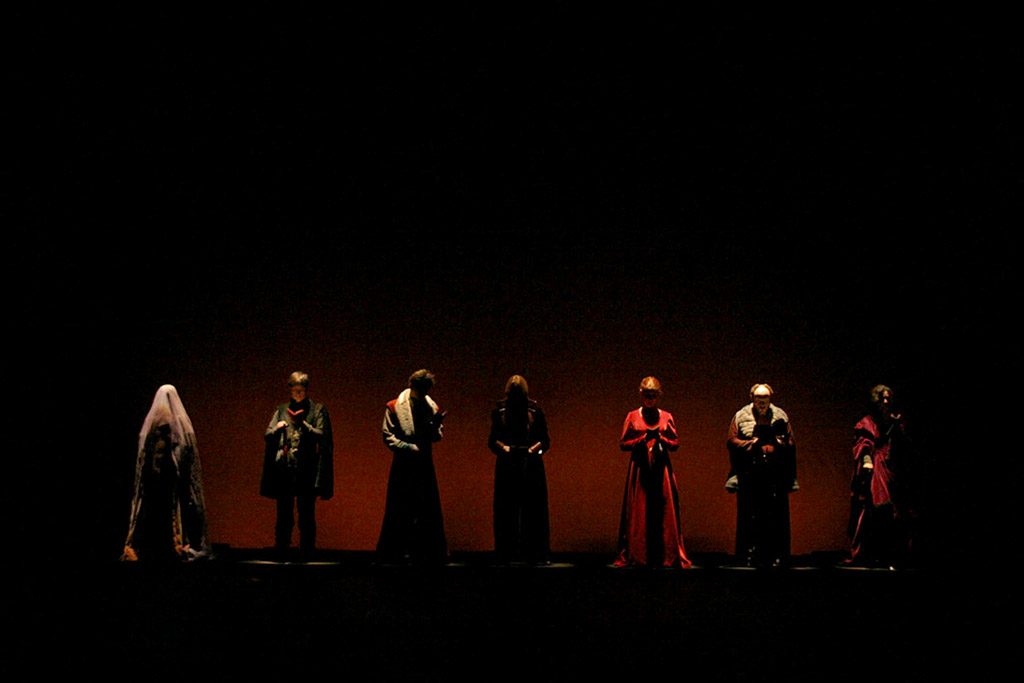 Cast
Richard: Juan Carlos Garés
Queen Elizabeth: Amparo Vayá
Buckingham: Carol Linuesa
Ratcliff: Vicente Pastor
Lady Anne: Esther López
Clarence / Richmond: Ismael Carretero
Hastings: Chema Cardeña
Queen Margaret: Laura Useleti
Stage councillor: Alfonso Tadeo
RIII Photo Gallery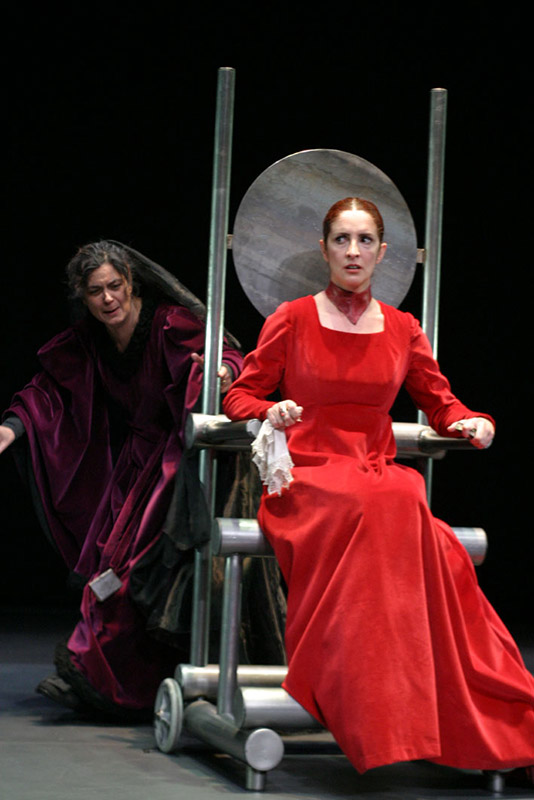 Q1 – Act I, scene iii – A charming speech between Queens
"Long maiest thou liue to waile thy childrens losse,
And see another as I see thee now
Deckt in thy rights, as thou art stald in mine:"
"¡Que puedas vivir los suficiente para llorar la pérdida de tus hijos,
y ver, como yo veo en ti ahora,
otra mujer en posesión de tus derechos, como tú lo estás de los míos!."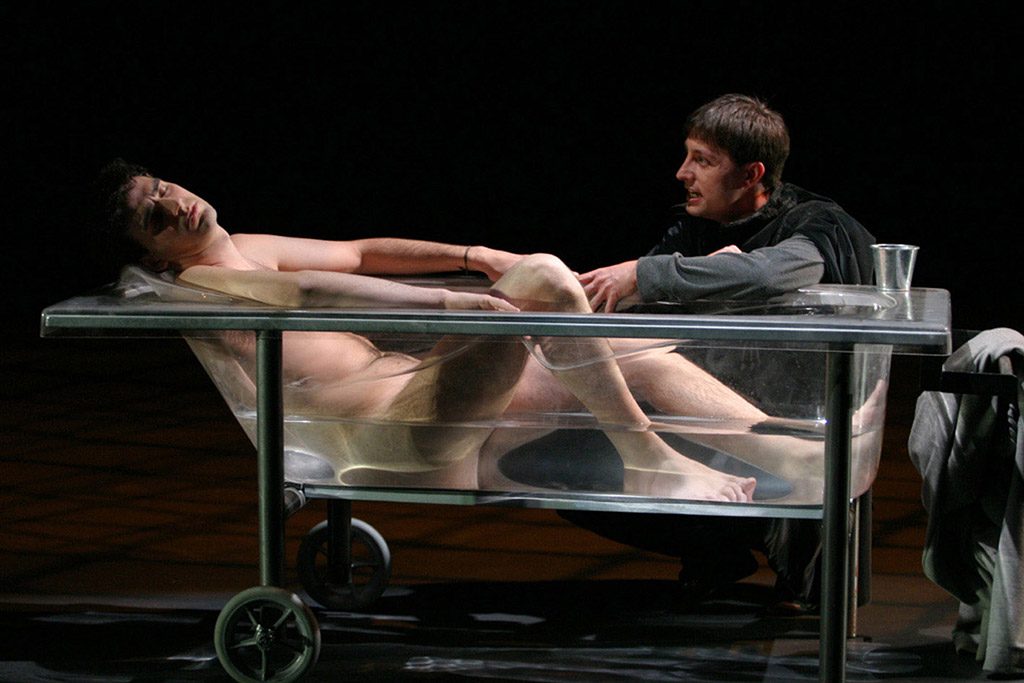 Q1 – Act I, scene iv – The Murder of George of Clarence
"The vrging of that word Iudgement, hath bread
A kind of remorse in me."
"El sentido de esa palabra, Juicio, ha hecho
nacer en mí una especie de resentimiento."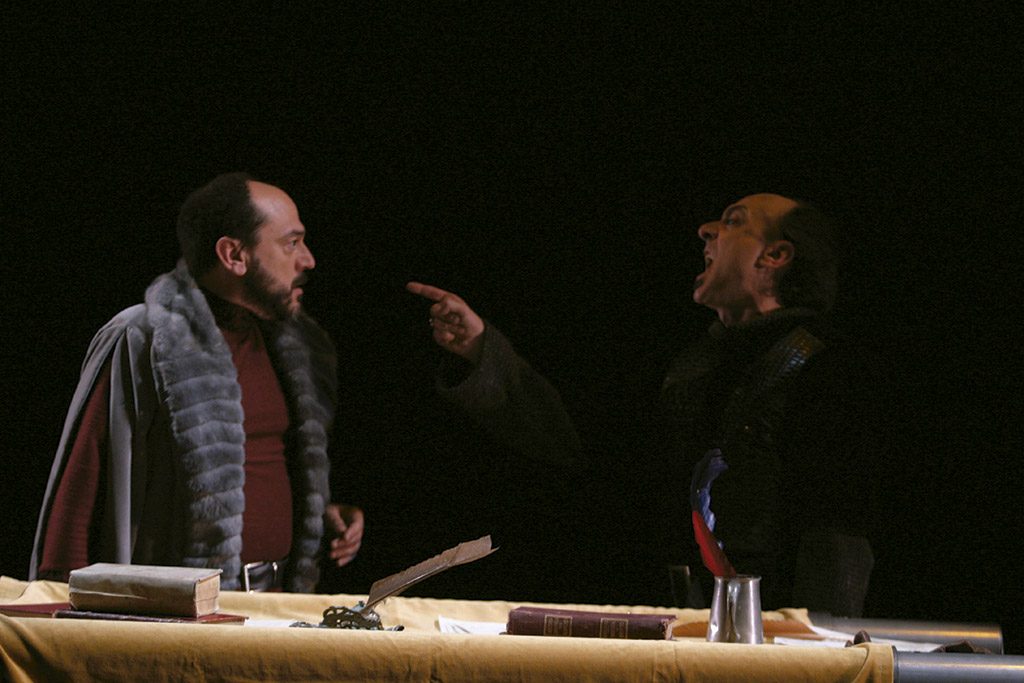 F1 – Act III, scene iv – The Execution of Lord Hastings
"Then be your eyes the witnesse of their euill,
Looke how I am bewitch'd:"
"¡Entonces, que vuestros ojos sean testigos del mal que se me ha hecho!
¡Ved como estoy embrujado!"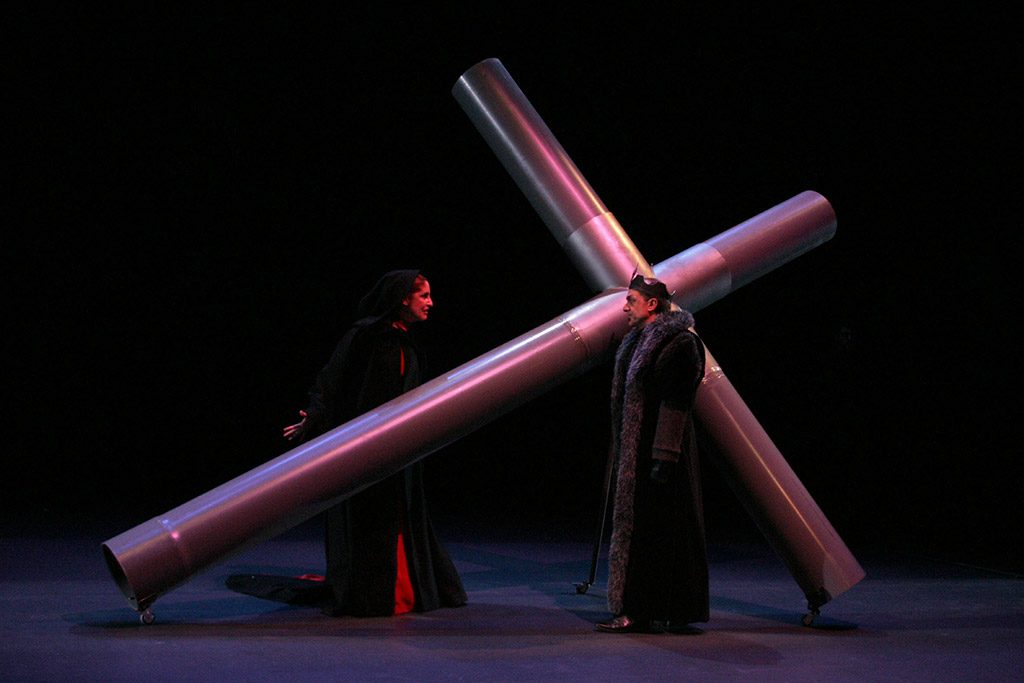 F1 – Act III, scene iv – An Incestuous Passion
"What were I best to say, her Fathers Brother
Would be her Lord? Or shall I say her Vnkle?
Or he that slew her Brothers, and her Vnkles?
Vnder what Title shall I woo for thee,
That God, the Law, my Honor, and her Loue,
Can make seeme pleasing to her tender yeares?"
"¿Qué podría decirle…? ¿Que el hermano de su padre
quisiera ser su esposo? ¿O le diré su tío?
¿O el que ha matado a sus hermanos y a sus tíos?
¿Bajo qué titulo le anunciaré vuestros deseos,
que Dios, las leyes, mi honor y su amor,
puedan serle agradables a su tierna juventud?"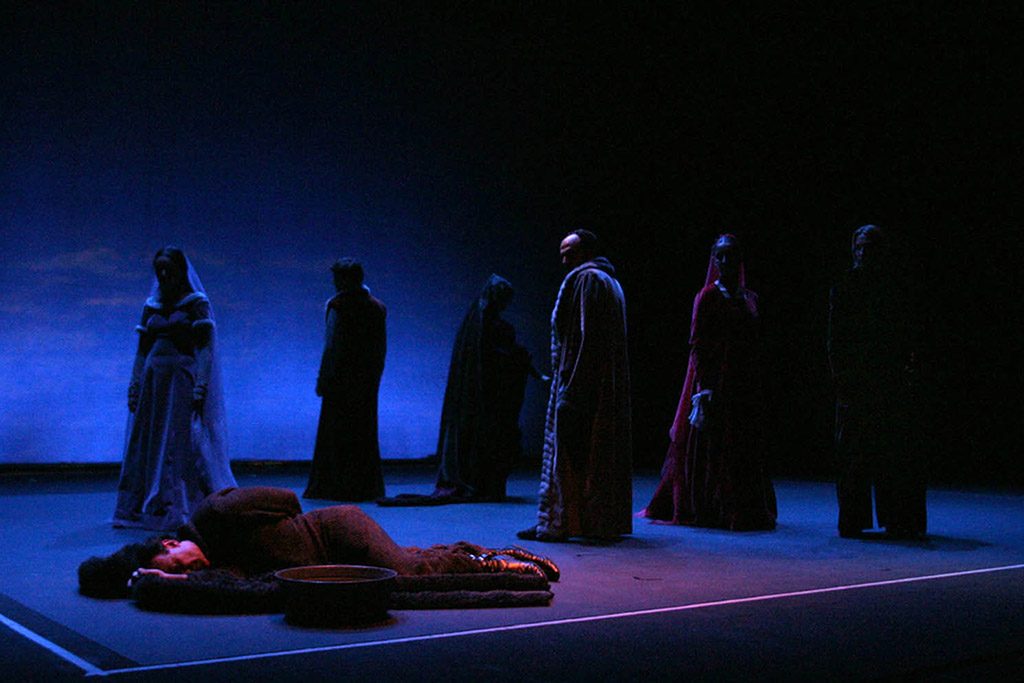 Q1 – Act V, scene iii – Death of King Richard III
"God and your armes be praisd victorious freends,
The daie is ours, the bloudie dog is dead"
"¡Loados sean Dios y vuestras armas, intrépidos amigos! ¡La jor-
nada es nuestra! ¡El sanguinario perro ha muerto!"
Crew
Script, Dramatic art and Direction: Chema Cardeña
Translation: Luis Astrana Marín
Scenography: Del Busto & Monterde
Lights: Ximo Rojo
Stylist: Pascual Peris
Sound design: Gilles Martín – Ximo Rojo
Voice-over: Antonio Martínez – María Poquet
Characterization: Inma Fuentes
Pictures: Maque Falgás
Video: Cabeza Líquida, S.L.
Graphic Design: Asaltinbankis
Technical Coordination: Ximo Rojo
Stage manager: Pilar Mohedano
Production design: Juan Carlos Garés
Executive production: Elba Torres
Production assistant: Carlos Galiana
Management: Mer Badía
Distribution: David Campillos
Assistant director: María Poquet
Press release (in Spanish)
El gusano de la conciencia (The Worm of Consciousness), El País, 29 october 2005.
La compañía valenciana Arden celebra su 20 aniversario (The Valencian Company Arden celebrates its 20th anniversary) Las Provincias, 14 april 2015.
La compañía valenciana Arden,  impulsora de la Sala Russafa, celebra sus 20 años en activo (The Valencian Company Arden, promoter of Sala Russafa, celebrates 20 years on stage) Levante, 15 april 2015.
El árbol de Shakespeare arraiga en Russafa (Shakespeare's Tree roots in Russafa) El País, 25 april 2015.
Source
Information provided by Dr. Vicente Forés and Dr. Jose Saiz (ISE – Internet Shakespeare España).
Venue:
Palau Altea, Altea (Alicante), Spain