No video is currently available for this production.
Kraliçe Lear (Queen Lear)
The documentary about the performance process of staging Kraliçe Lear (2019) shows how an all-female, rural, travelling theatre company deals with gender inequalities. Their backstories give Shakespeare new significance for the lives of the performers and their sceptical audiences. As an all-female and rural travelling theatre, the Arslanköy Theatre Company's free performances aim to dissuade rural people from their general disbelief at the necessity of dramatic entertainment. Laying bare gender inequalities and problems about the public presence of women, Kraliçe Lear is a documentary by and for rural women's emancipation. While we witness the Sisyphean attempts of the female players of Kraliçe Lear to win different hostile rural audiences for their cause when they move from one village to another, the actual performance of the play is shown in broken sequences that interlap with retrospective and prospective metadramatic comments by the players. Illustrating the importance to empathise with the character one portrays, the players show how meaningful the subject matter of King Lear is for their own lives, as well. Illustrating how each player deals with a certain familial trauma, King Lear becomes a means to cathartic relief for the players. This creates a consciousness in the players to create associations of the play with their rural audience members that can be seen in their dramaturgical choices. Rural costumes, the use of crossdressing of a guest performance by an angry villager as Goneril, and his kissing of Lear's hand as sign of the veneration of elders in Turkey all create a carnivalesque environment the rural audiences are familiar with.  The inversion of gender and status roles creates comedy and releases fears associated with the patriarchal pressure put on these people. The frame-tale of beginning and ending the documentary in an almost jig-like dance by the female players also shows the power of female laughter amid the grim face of patriarchal forces.
Cast
Fatma Fatih (Lear)
Behiye Yanık (Cordelia)
Cennet Güneş (Goneril)
Zeynep Fatih (Regan)
Ümmü Kurt (substitute player)
For more information, visit IMDb and TurkishShakespeares.
Further Reading
Öğütcü, Murat. "Contemporary Turkish Shakespeares: New Breath to Old Lives." Early Modern Liveness: Mediating Presence in Text, Stage and Screen. Eds. Danielle Rosvally and Donovan Sherman. London: Arden, 2023. 145-169.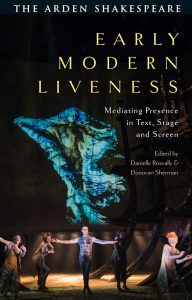 ---
Production notes provided by Associate Professor Dr. Murat Öğütcü, Adıyaman University, Turkey.
Kraliçe Lear (Queen Lear)
Clips
Scenes from the rehearsal in the Anemurium amphitheatre in Mersin, Turkey (subtitles in English via auto-translate option in video settings).
Scenes from the rehearsal in the Anemurium amphitheatre in Mersin, Turkey (subtitles in English via auto-translate option in video settings). less
Title:
Kraliçe Lear (Queen Lear)