No video is currently available for this production.
Kırık Kalpler Bankası (The Bank of Broken Hearts)
Kırık Kalpler Bankası (The Bank of Broken Hearts) is a film directed by Onur Ünlü in 2016. Ünlü, also the scriptwriter of the film, adapts Shakespeare's Romeo and Juliet by shifting the family feud to enmity between two local football teams in İstanbul. The rivalry between Yeşil Takım (Green Team) and Mor Kulüp (Purple Club) emanates from a personal grudge between Yusuf Yağmur (Haluk Bilginer) and Rüstem Tor (Ahmet Mümtaz Taylan), both of whom are acting like football coaches of these teams. Yusuf, working as an imam as well, waits for his sheikh's sign to choose him as his successor so that he looks for a clue to exercise his authority over the others. Rüstem, the owner of the nightclub, Mor Kulüp, is the leader of the organ mafia who even steals the heart of Yusuf's son after his death. In the complex threads of the plot, the members of Yeşil Takım attempt to break class boundaries in their plan to steal money from the Bank of Broken Hearts. While they are at pains to escape relegation in the league, they also fail in their attempts at robbery each time for a series of absurd reasons. Among the members of the team, Osman (Taner Ölmez), the sheikh's younger son, falls in love with Aslım (Hazal Kaya) who feels obliged to stay with Rüstem because of her drug addiction. The star-crossed lovers' hope of union is dashed by Yusuf and Rüstem, and the lovers are doomed to die in the end.
At the key moments of the film, the characters deliver Shakespeare's famous lines in reference to the source text. Yet Ünlü's adaptation contextualises Romeo and Juliet's story within Turkish social and cultural frames through which the film deals with the themes of social injustice, greed for power, authoritarianism and gender inequality. The domesticated version of Shakespeare's play intertwines the iconic western love story with eastern elements by highlighting Turkish local colours and referring to Islamic cultural practices and mysticism. Although the subplots loosely knitted with the main story make the film hard to follow, the elements of magical realism single out the film adaptation of Romeo and Juliet.
Behind the scenes of the film:
https://www.hayatimisatiyorum.com/video/kirik-kalpler-bankasi-21/kirik-kalpler-bankasi-kamera-arkasi-754
Cast
Haluk Bilginer
Serkan Keskin
Hazal Kaya
Taner Ölmez
Tansu Biçer
Osman Sonant
Fatih Artman
Öner Erkan
Metin Akdülger
Kadir Çermik
Diren Polatoğulları
Mehmet Yılmaz Ak
Ahmet Kaynak
Aziz Caner İnan
Hüseyin Avni Dalyan
Ahmet Somers
Vedat Erincin
Zeynep Kızıltan
Mehmet Bilge Aslan
Mustafa Kırantepe
Evren Erler
Müfit Kayacan
Ayhan Yurdakul
Engin Alpateş
Ahmet Mümtaz Taylan
Senay Gürler
Nazan Kesal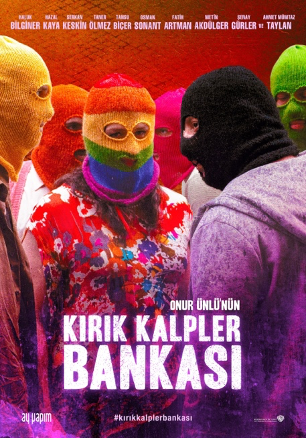 Poster of the film from IMDb. https://www.imdb.com/title/tt4717644/
For more information, visit IMDb: https://www.imdb.com/title/tt4717644/
Further Reading
Vural Özbey, Kübra. "Haluk Bilginer as a Shakespearean Actor." Turkish Shakespeares. 2022.
---
Production notes provided by Dr. Kübra Vural Özbey, Muğla Sıtkı Koçman University, Turkey.
Kırık Kalpler Bankası (The Bank of Broken Hearts)
Clips
Romeo, Benvolio and Mercutio's dialogues from Shakespeare's Romeo and Juliet (I. iv. 1-120) are reimagined in Osman and Ece's dialogue and Aslım sings a song at Mor Kulüp (with English...more
Romeo, Benvolio and Mercutio's dialogues from Shakespeare's Romeo and Juliet (I. iv. 1-120) are reimagined in Osman and Ece's dialogue and Aslım sings a song at Mor Kulüp (with English subtitles)
Title:
Kırık Kalpler Bankası (The Bank of Broken Hearts)