Even though Shakespeare's plays were initially performed by all-male casts, they were designed to appeal to diverse audiences. Many modern adaptations reimagine those plays as expressions of gender nonconformity. Many modern adaptations reimagine those plays as expressions of gender nonconformity. Over the past decades, prominent films and theater works have fostered new public conversations about the politics of appropriating gender identities in Shakespeare's plays around the world.
Gender variance is more than just a dramatic device derived from the early modern practice of cross-dressing. Our understanding of the comedies and romance plays would change dramatically if some characters are interpreted as transgender or played by transgender performers, such as Viola who presents as pageboy Cesario in Twelfth Night, Falstaff as the Witch of Brainford in The Merry Wives of Windsor, Rosalind as Ganymede in As You Like It, and Imogen as Fidele in Cymbeline.
Viola as Cesario, for instance, is a trans masculine character, as they do not cross-dress for entertainment or mischief. Cesario never recovers his "maiden's weeds" at the end of Twelfth Night. The assumed demise of their twin brother Sebastian is a pivotal moment for Viola not only to mourn him through impersonation but also to live an authentic life. This reading of Viola is inspired by the late Christy Desmet's interrogation (or "prosecution") of the motives of characters as they manifest themselves in the characters' rhetoric. What is "true" in a fictional character can be determined by the rhetoric in various dramatic conventions such as trial scenes and formal debates. By taking into consideration a character's actions and choice of words we can deduce their personal truth in a performative context.
Since gender variance is coded linguistically and culturally, performing Shakespeare in translation entails purposeful treatment of personal pronouns. Twelfth Night is a good example. When Cesario, pursued by the lovelorn Olivia, declares that "I am the man [of the hour] and a dream" in Twelfth Night (2.2.25–26), they traverse a transgender space. On the early modern English stage, Viola would speak with double irony as a doubly cross-dressed boy actor. In modern times, Viola would challenge audiences' normative assumptions when the role is played by an adult male actor (Johnny Flynn) in Mark Rylance's all-male production at the Globe Theatre in London in 2012 (dir. Tim Carroll).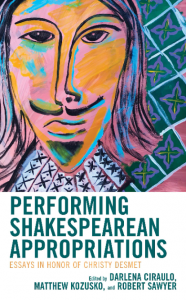 Gender play in Twelfth Night acquires many more fascinating layers when performed in Japanese, a language that often elides the subject. As an otokoyaku (actress specializing in male roles) in the all-female Broadway-style Takarazuka musical production (dir. Kimura Shinji, 1999), Yamato Yuga's Viola embodies enticing gender fluidity when speaking Japanese. In addition to making the right choice of employing the familiar or the polite register based on the relation between the speaker and the addressee, male and female speakers of Japanese have to choose from gender-specific first-person pronouns. This grammatical feature makes it difficult to create a queer space. However, it can be rewarding to work with semantic ambiguity within syntactical restrictions by eliding the subject.
By reading Viola/Cesario as trans, we build a more capacious theoretical model to elucidate not only performance histories of sexual transformation, such as Montaigne's story of Marie Germain or Ovid's Iphis and Ianthe, but also less explicit representations of trans identities such as double crossdressing.
We could deploy transgender theories to examine other cases as well, such as the practice of cross-gender casting (Julie Taymor's 2010 film The Tempest), gender-bending performances (contemporary productions of Jacob Gordin's 1898 play The Jewish Queen Lear), and postgender adaptations, in which gender is not treated as a meaningful denominator of characterization (Michelle Terry's 2018 Globe productions).
Performance theories inflected by transgender studies destabilize the line between normalcy and the deviant in and beyond scripted performance. Transgender theory enables us to reclaim gender variant performances and expand our collective archive of global Shakespeare.
This blog post is an excerpt from Alexa Alice Joubin's "Transgender Theory and Global Shakespeare," Performing Shakespearean Appropriations: Essays in Honor of Christy Desmet, ed. Darlena Ciraulo, Matthew Kozusko, Robert Sawyer (Lanham, MD: Fairleigh Dickinson University Press, 2022), 161-176 [PDF]
Read the rest of the chapter here.