In One Husband Too Many, Anthony Chan plays a b-grade stage actor whose wife has just left him. His brother (Kenny Bee) is a successful advertising man, whose wife has left him as well. Chan moves back in with Kenny, and they bemoan their lack of woman-holding skill. In an odd turn of events, they become entangled with the same woman (Cherie Chung). When Kenny seems to be winning the fight, Anthony uses dirty tactics.
Cast
Anthony Chan Yau as Hsia Chin-Hsin
Kenny Bee as Hui An Hua
Cherie Chung Cho-Hung as Sogo / Frances
Alfred Cheung Kin-Ting as Perfomer kissing Sogo
Anita Mui Yim-Fong as Yuan Tung / Park
Pat Ha Man-Jik as Lai Lai
Michael Chan Wai-Man as Old K
Tin Ching as Village Head
Bolo Yeung Sze as Dung Ken
Bruce Mang Long as Ah Choi
Joanna Chan Pui-San as Friend of Frances
Yip Hon-Leung as Hua's advertising boss
Yat Boon-Chai as Immigration policeman
Sabrina Ho Pui-Yi as Hua's co-worker
Yuen Tak as Villager throwing tomatoes at theatre
Wong Chi-Ming as Villager at theatre
Luk Ying-Hong as Immigration policeman
Fong Yue as Villager at theatre
Ma Hon-Yuen as Dung Ken's man
For more information, visit, HKMDB, IMDb, and Letterboxd.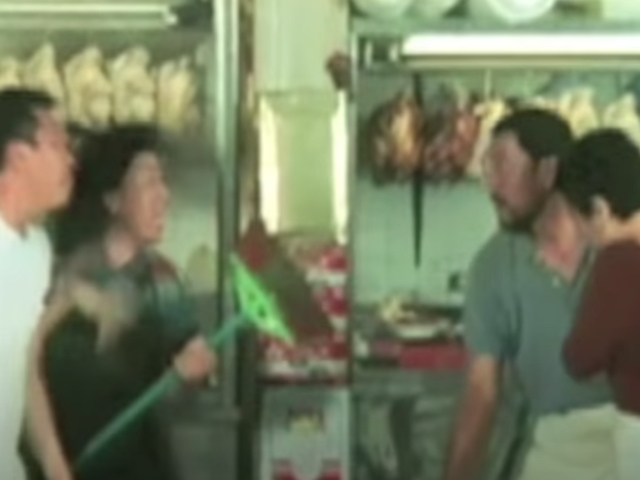 Chicken Rice War (Jiyuan qiaohe, dir. Chee Kong Cheah [CheeK], Mediacorp Raintree Pictures, 2000).
Supported by the Singapore Film Commission (SFC) and shot as a mockumentary with MTV-style rapid cuts and whooshing camerawork, the comedy film is Mediacorp Raintree Picture's first movie primarily in English and the first feature-length work by CheeK, editorial director of MTV Asia (headquartered in Singapore). It frames and trivializes the feud in Romeo and Juliet by reducing the generations-old dispute between the aristocratic Montague and Capulet families, leading to bloodshed, to the rivalry between the Wong and Chan families, who own competing chicken rice stalls next to each other in a hawker center (semi-open-air food court) in the prosperous city-state.
Read More